Event planning can be a complex endeavor, involving a myriad of moving parts that can easily overwhelm even the most seasoned professionals. To ensure a successful event, it's crucial to have a comprehensive plan in place. That's where the 6 A's of event planning comes into play, offering a valuable framework that helps you meticulously consider and execute every aspect of your event. Join us as we delve into each of the 6 A's and discover how Display Group's Creative Collective can assist you in creating extraordinary events.
Aim: Defining Your Event's Purpose
The first step in any event planning journey is to clearly define the aim and objectives of your event. Are you celebrating a significant milestone, launching a new product, or raising funds for a charitable cause? With Display Group's expertise, we can assist you in aligning all aspects of your event with its overall goal. Our event planning professionals will work closely with you to ensure that your objectives are at the forefront of every decision made.
Audience: Identifying and Engaging Your Target Attendees
Understanding your target audience is paramount when planning a successful event. Display Group recognizes the importance of identifying the demographics, interests, and preferences of your attendees. By comprehending your target audience, we can curate an experience that truly resonates with them and keeps them engaged throughout the event. With our strategic guidance, your event will leave a lasting impression on your attendees.
Agenda: Crafting a Seamless Schedule
Developing a detailed agenda is essential for smooth event execution. Display Group's event planning experts will collaborate with you to create a comprehensive schedule that includes precise timings, presenter and performer details, and well-placed breaks and transitions. With our meticulous attention to detail, you can trust that every important element of your event will be covered, ensuring a flawless experience for your attendees.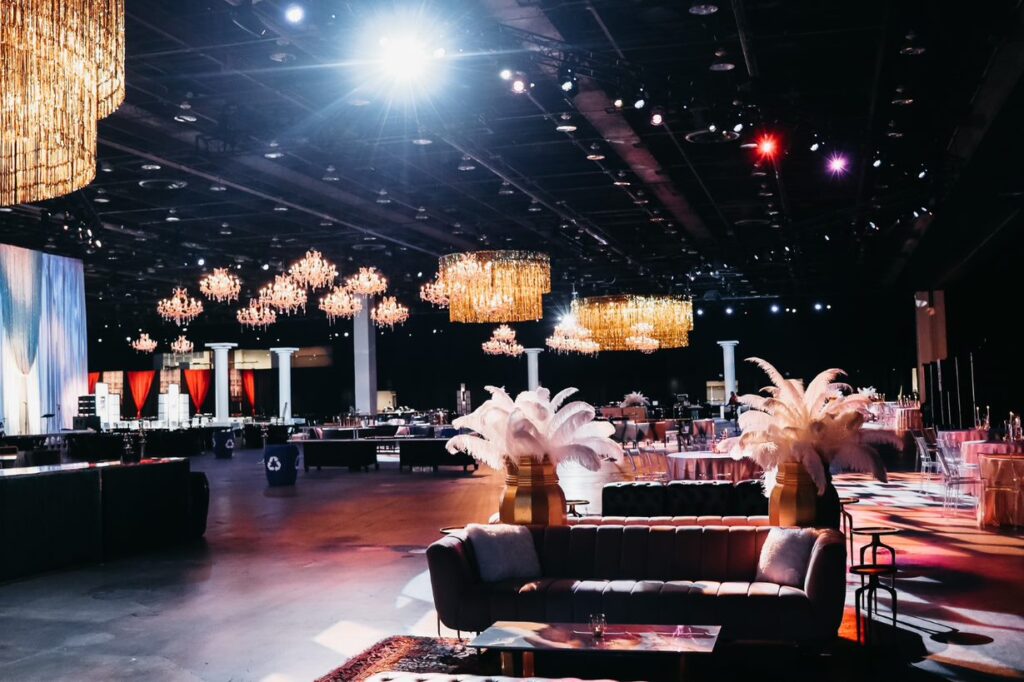 Atmosphere: Setting the Stage for Memorable Experiences
Creating the perfect atmosphere is paramount in setting the tone and captivating your attendees. Display Group's expertise in event decor, lighting, and music selection ensures that your event ambiance aligns with your vision. Whether you're aiming for a formal and professional setting or a festive and casual atmosphere, we'll work closely with you to craft the perfect environment that complements your event's goals and captivates your guests.
With our event rentals, we're able to transform boring ballrooms, empty warehouses, and big outdoor tents into whatever your heart desires. Our team has its finger on the pulse of the freshest industry trends and constantly adding new additions to our extensive rental inventory so you always have the trendiest, coolest items at your fingertips.
The perfect lighting and sound can transport you to event heaven – bad lighting and sound can drag you back down to the real world, fast. Mic feedback, anyone? Not on AVL's watch. Need a video wall to showcase your newest product? We've got you. Want a mini-movie highlighting your last years accomplishments? We can do that. From glittering light displays that illuminate a warehouse into an ethereal world to lush soundscapes that transcend space and time, the AV and production experts at AVL to make live events, well, livelier.
From mitzvahs on Mars to 50th birthday parties that take you through space and time to Studio54, Mandell's team of creative and experienced event producers can take your vision and amplify it beyond your wildest dreams. We are passionate about what we do and are aware of our effect on our community and the world we are a part of. We make sure our client's vision and personalities are represented in the most important events in their lives.
Activities: Engaging Experiences that Leave a Lasting Impression
Planning captivating and interactive activities is key to keeping attendees interested and involved. Display Group understands the significance of creating memorable experiences. Our creative team will collaborate with you to design engaging activities, such as games, contests, or interactive presentations, ensuring that your attendees are thoroughly entertained throughout the event. By offering a diverse range of activities, we'll make certain that your event is a resounding success.
With an arsenal of state-of-the-art, in-house machines DG3D can bring almost any fabrication idea to life. Our team can get techy with 3D printing, CNC technology, vacuum forming and casting – making objects and environments of movie-set quality. We also have highly-skilled carpentry services, old-school style, to build signage, sets, and scenes that will make your event an experience your guests will talk about for years to come.
Administration: Seamlessly Managing All Event Logistics
Efficiently handling administrative tasks is crucial to the overall success of your event. Display Group's event planning professionals excel in managing the administrative aspects of event execution. From securing permits and managing vendor contracts to coordinating transportation and parking logistics, we'll keep everything organized and ensure that all elements come together seamlessly, allowing you to focus on the core objectives of your event.
In summary, the 6 A's of event planning—Aim, Audience, Agenda, Atmosphere, Activities, and Administration—provide a robust framework for meticulously considering and executing every aspect of your event. With Display Group's expert guidance, you can confidently navigate each step of the event planning process, ensuring that your event not only meets your objectives but also exceeds the expectations of your attendees. You can trust Display Group's Creative Collective to bring your vision to life and create an unforgettable event experience.