South Asian & Indian weddings are a completely different affair from western weddings! We chat with Account Executive Cassie Lewis to get her tips on everything you need to know for these celebrations, as a bride and as a guest.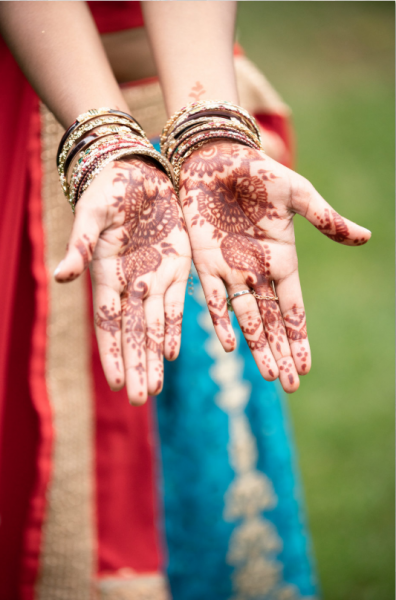 What Makes Up an Indian or South Asian Wedding
"For starters, they can be a five-day long affair! Usually, guests are invited to three of the events surrounding the festivities, and each portion is meaningful in some way, whether it is ceremonial or a thoughtful performance from a family member dedicated to the bride and groom. And really, customs vary based on what region the families are from. Often now a majority will be fusion weddings combining the traditions of both families. One thing I've started to see is brides carrying a flower bouquet down the aisle, which we know as a pretty western tradition."
For guests that aren't familiar with the customs and terms involved, we've included Cassie's favorites below:
SANGEET: The sangeet is solely conducted to relish in the happiness and joy surrounding the couple – and it's really where the party begins! This celebration includes dances performed by relatives and friends of the couple, songs by the elder female members of the family sung in unison with the bride, and an open dance floor to commemorate the festivities for the following days.
MEHENDI or MEHNDI: Also known as "henna," this is a paste associated with positive spirits and good luck. Indian Wedding tradition calls for a Mehndi ceremony to be held the night before the wedding as a way of wishing the bride good health and prosperity.
BARAAT: This procession happens in Hindu and Sikh weddings when the groom is led to the marriage venue. He will ride on a decorated white horse or extravagant car accompanied by family members, groomsmen, and friends cheering and dancing to blasting exciting music.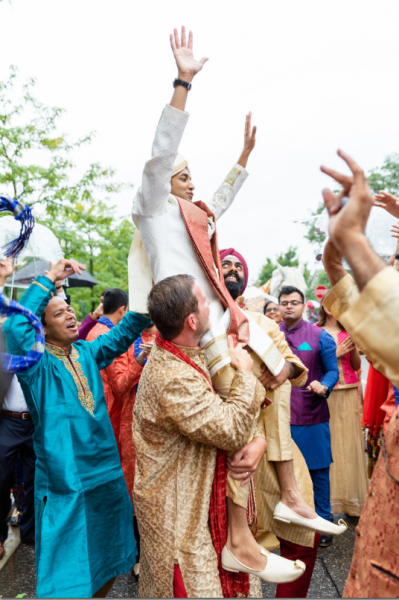 What to Wear to an Indian Wedding
Another concern guests may have when attending is figuring out appropriate and respectful attire. While the trends don't differ too much from a western wedding, there are still some colors to avoid: black, white, and red.
"I highly suggest getting traditional Indian garb to wear to the festivities because you will feel like an absolute princess in a saree or lengha and it will be seen as a sign of respect that you are taking the time to really immerse yourself into their culture. Most families can provide a recommendation, but I personally love Rachna at Taj Cottage if you're looking to support a local business."
How to Plan a South Asian or Indian Wedding
For brides and couples starting to plan their celebration, Display Group offers many capabilities to assist from the design services to the décor planning for your events. Our vast amount of specialty event rentals throughout our warehouse combined with our audiovisual services and custom fabrication adds up to a one-stop-shop for your wedding services. Our fun, colorful furniture will transform your sangeet. Our immense collection of fabrics can be used for draping your mandap, and we can bring luxe stage designs to your reception. Cassie provides some other ideas to make your celebration truly unforgettable.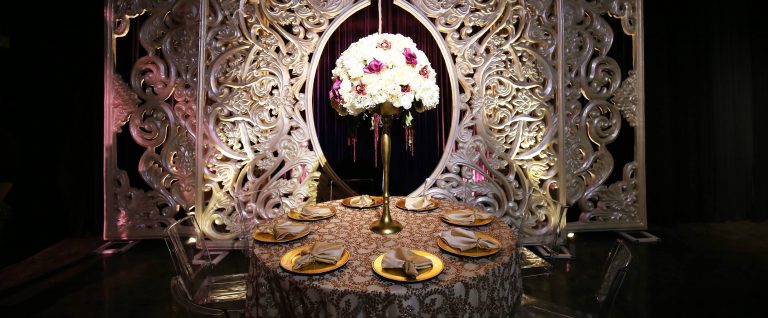 How to Add a Personal Touch to a Traditional Indian Wedding
"Customization! Utilizing our design services and custom fabrication capabilities will truly take your event to the next level. Let's say you want a custom mandap that no one else has – we can concept it, render it, build it, and execute it! We can even help on a smaller scale by creating a unique photo op experience or even custom signage. The main décor pieces – the mandap and reception stage – are definitely places I recommend splurging on. These are the focal points of the event and likely where most photos will be happening. I also recommend investing in your lighting – it will dramatically affect your event and I tell my couples not to overlook the importance of lighting your reception."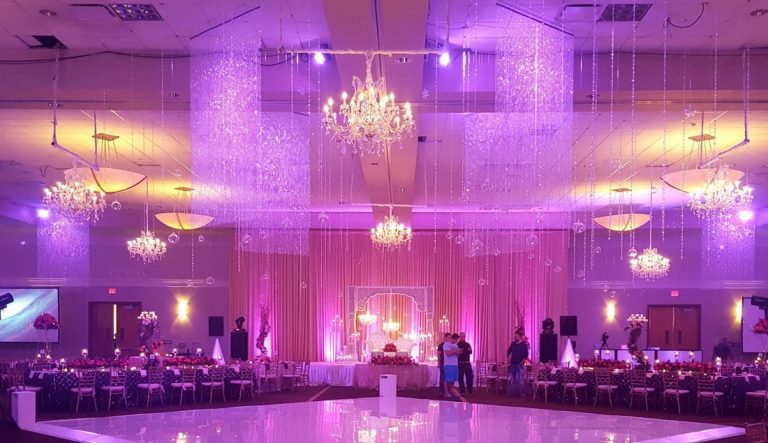 As far as other aspects to invest in? Cassie recommends to always remember the people running the show.
"Make sure you have a DJ and emcee that is familiar with how an Indian event runs and pronounce terms and names correctly. Your wedding will have a wide mix of music styles, and having a DJ that embraces variety and throws in an old school song for your grandparents and parents is going to get everyone out enjoying the dance floor. Also, there are so many moving parts to your celebration, leave the details in the hands of a day of coordinator so that a professional can handle all the puzzle pieces and your family members can enjoy the day."
Display Group's enormous inventory and supreme capabilities are ideal for helping you with your celebration. Contact us today and let's work together on creating perfection!