Here at Display Group, we know that a lot of thought goes into choosing rental furniture for an event, Layout – along with furniture color, style, and placement — all need to be considered. Otherwise, how can guests enjoy themselves and the event space, standing there with nothing to sit back and lounge upon?
After 30 years of rental service and experience, we've learned a thing or two about event logistics and rental options. And we're always excited to expand our offerings. That's why we're stoked to tell you about one of our most recent offerings, TotallyMOD rental furniture!
Furniture Highlights
TotallyMOD, by Quest Events, offers some of the most innovative and sleek event seating available. Display Group's current in-house TotallyMOD rental selection includes 68 uniquely designed white sectional modular pieces. And these can all be arranged and connected with one another to perfectly fit your event space, no matter how big or small.
So, want to line your walls with sectional sofas or 'coves' so everyone has a place to sit? We can do that. Want a 'campfire'-style setting with smaller seats and a central table for communal gatherings? Absolutely. Maybe add a few loveseats here and there so people can relax away from the main floor? TotallyMOD offers seating configurations limited only by your imagination. You'll be surprised how flexible and versatile TotallyMOD can be.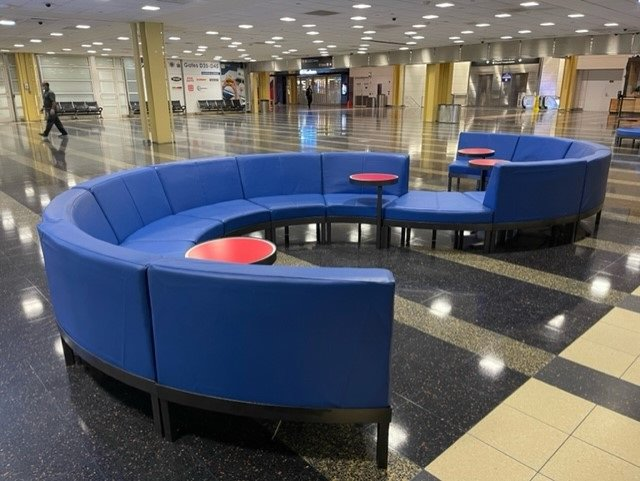 The Flexibility of Custom Furniture
The TotallyMOD line is available in several colors and can be branded with custom artwork. The system even features changeable RGB LED underlighting.
The event design geniuses here at Display Group will help you produce an event that can match your imagination. We're ready, waiting, and confident that our creative collective, combined with the inherent flexibility of TotallyMOD furniture, will be the perfect furniture solution for your next big party, event, or show. And your guests will thank you for it.
For more information on the TotallyMOD line of custom event furniture, check out our downloadable catalog, or contact us. Because questions are always welcome.