There are many types of corporate events held throughout the year, with most being business-oriented. Since many corporations also  tend to be very family-oriented, they tend to host a family event at least once a year, which are highly-anticipated events. When a corporation chooses to host a family fun day, their goal is to create an atmosphere that is family-friendly, giving their guests a variety of fun experiences that will give them memories to last them a lifetime. Or at least until the next corporate family event!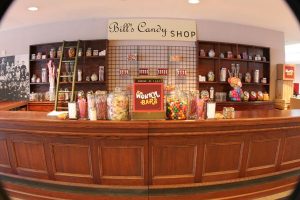 Decorating for a Corporate Family Event
When it comes to decorating the venue for the corporate family event, there are many choices from which to choose. Depending on the atmosphere and/or the venue you're using will help you decide which type of decorations will work best for your particular event.
Family Event Theme Idea. A great choice for a corporate family event is to choose a theme that everyone can relate to, such as that from a fun family movie. For example, 'Willy Wonka and the Chocolate Factory' is an extremely fun and popular movie that can be used as an overall theme. Imagine how fun it would be decorate the corporate family event with lots of props that can make one feel like they are actually in the Willy Wonka Factory!
Multi-Color Ceiling Fabric. A great choice for making the event super-colorful and thus super-fun! Imagine how amazing the addition of multi-colored ceiling fabric will make to the overall ambiance, adding that extra flamboyance that makes any event extraordinary.
A Few Lighting Choices
Choosing the lighting for a corporate family fun day is a great idea, and adds lots of extra flair!
Light Projection. Choose to have your corporate logo projected on the walls using light projection, a lighting choice that is becoming more and more popular as it is considered both very versatile and super trendy.
Intelligent Lighting Ceiling Projection. Add some extra style and flamboyance by using light projection on the ceiling in a variety of fashionable patterns and styles.
Food & Drinks
When it comes to choosing what to serve at a corporate family event it's important to take into consideration the ages of all the children/teens that are attending, which will greatly assist in choosing the foods and drinks.
Children.
Food Choices: Fruit Kabobs, Macaroni & Cheese, Hot Dogs, Pasta w/Meat Sauce
Drink Choices: Milk, Fruit Punch, Fruit Smoothies
Teens.
Food Choices: Sliders, Nachos, Pizza, Potato Skins w/Cheese
Drink Choices: Soda, Lemonade, Black Cows, Shirley Temples
Adults.
Food Choices: Finger Sandwiches, Vegetable Platter w/Dips, Hearty Salad
Drink Choices: Raspberry Ginger Ale, Tea(s), Coffee
Desserts for Everyone!
Chocolate Dipped Fruit
Cupcakes
Milkshakes
Good To Know
When hosting a corporate family event, be sure to take into consideration the variety of people as well as the general ages of everyone that will be attending. This will greatly assist in the planning arrangements as well as choosing the best decorations to make this event one that won't soon be forgotten!
Need help planning out the details of your corporate family event? Work with our talented professionals to plan a fun, family-oriented day with all of the essentials!