Anytime a company hosts/attends a special event, the thought of how to best brand the event is always near the very top of the list of things-to-do. You can choose to add a few subtle graphics, or go all out with a Sponsor Wall that makes it almost impossible for people to walk by without showing interest. Or maybe you think that a combination of both is a good idea. It's completely up to you to decide from the many choices that are available when it comes to finding out the best ways to promote your particular company's brand.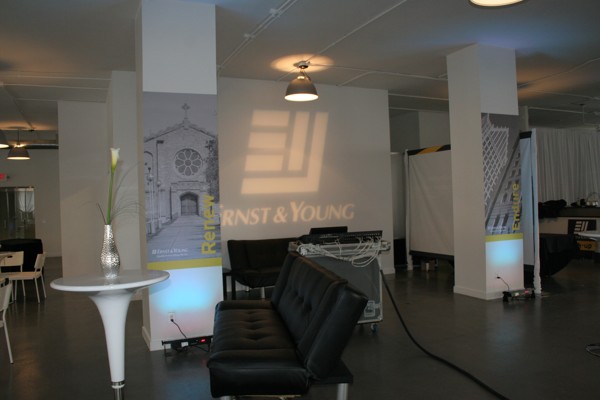 A Few Questions
Some of the more common questions that need answers are shown below, which will assist you in determining the best way to brand your particular corporate event.
How prominent should the graphics be? Completely obvious or more subtle?
What size graphic is suitable for this particular event?
How many various graphics do I need? (There are many styles from which to choose!)
Graphic Choices
Although using graphics to brand your event is pretty straightforward, there are quite a few ways to use these graphics so that they best fit your particular company as well as the special event that is currently being planned.
Custom Props. Choose a few graphics that are specifically made for a particular event. For example, if the event is a Corporate Christmas Party, you can create invitations that are custom-made to send to your employees. At the actual party a larger version of the invitation can be made to set upon a display that all attendees can see as the enter the Corporate Christmas Party.
Banner Stand. Choose a few different company-related pictures/messages that can be displayed around the event that guests can easily see/read as they enjoy their evening of fun. Can be simple and elegant or bold and to the point.
Trade Show Graphics. This graphics display choice is one of the best choices when it comes to trade shows. There is plenty of room for all the most essential information as well as for some photos/logos that are deemed important to your corporate message.
Sponsor Walls. Choosing to use a Sponsor Wall is a forward-thinking idea and accordingly makes quite the statement! There is not only lots of room to add any and all the essential information about your particular company, this Sponsor Wall is quite the eye-catcher making it one that is hard to pass by.
Prize Wheel.  Last but not least, create a customized prize wheel, which everyone likes to see at any corporate event!
A Great Idea
Take pictures of all events in which company graphics were utilized in order to create a portfolio for future events. Also, make notes for how successful a particular graphic choice was as well as how people responded to it. This way you have an idea of exactly what may be needed for the next event your company hosts/attends.