A corporate party with a racing car theme is  one that any racing car enthusiast is sure to enjoy. Both men and women enjoy this fast-paced sport, with the first organized official car race being documented back in 1887. Some of the states that tend to be more involved when it comes to car racing include North Carolina, Indiana, California, Georgia, and New York.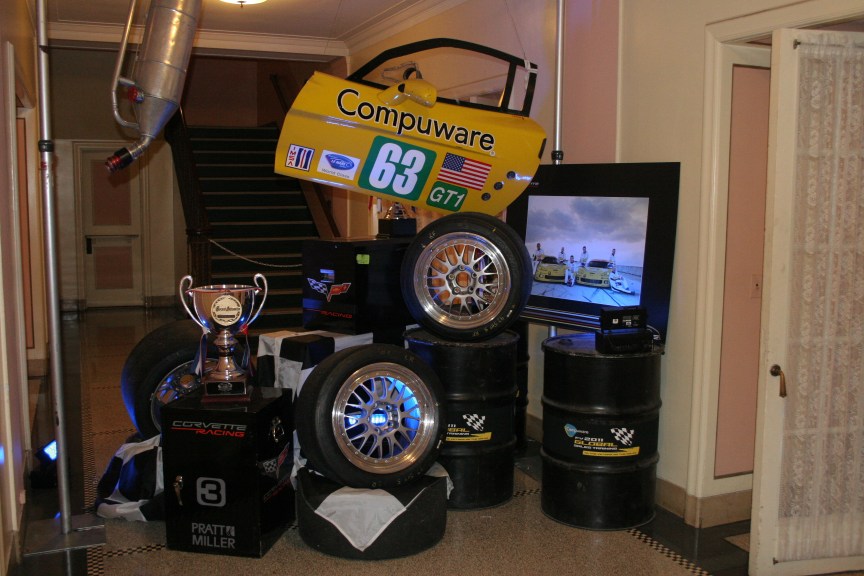 Decorating the Event
The overall car racing theme should emit a feeling of actually being at a race track. One really great idea is to place a few television sets around the room showing some of the more popular race car themed movies, such as Days of Thunder, NASCAR – The IMAX Experience, and Talladega Nights. Also, place black and white flags/balloons throughout the venue to add to the overall party atmosphere.
Cutouts
Dale Earnhardt, Bill Elliot, Jeff Gordon, John Andretti
Pace Car, Pit Crew Members, Flagmen, Winston Cup Trophy
Props & Flats
Racing Tires, Winners Circle Flat
Floor. Using a black and white checkered floor pattern adds greatly to the overall racing car theme.
Walls. Consider using Spandex Walls to add the corporate logo or display a race car related message/photo for the audience to view.
Lighting. Use red, yellow, and green lights throughout the venue to emanate the stop, slow down, and go lights used during a car race.
Fun & Games
Let your guests know that you want them to have fun by initiating some games for them to play throughout the corporate event.
If an actual race is taking place at the time of the corporate party, have guests draw entrants names out of a bowl. If the driver they pick wins, give them two tickets to the next racing car event held nearby.
Set up a mini track and let guests race remote control cars around the track with the winner receiving a special prize.
Set up an area where guests can play racing car games, such as on PlayStation, with the winner being the person who gets the top score of the night.
Food & Drink
The following list of foods are some of the more popular food items served at a racing car event.
Hot dogs, hamburgers, fried chicken
Nachos, chips & dip, potato salad
Soda, red bull, beer, champagne
Also, add some dessert options, such as a race car shaped cake and/or cookies
A Great Idea
Choose to highlight a particular racing event, such as NASCAR, and let the party theme fall around anything and everything related to this highly popular car racing event.
Need custom racing banners or event furniture rentals? Contact our design team to create the perfect racing theme party from start to finish.