There's a lot to know when it comes to hosting and managing a company trade show. In fact, the list  of things to do can be quite long and thus can seem to be quite overwhelming, which makes it critical to start the planning as soon as possible (at least 4 – 6 months before the event).  Some of the more critical aspects of hosting a company trade? Finding the perfect location, renting the event space, sending out invitations, using public relations to promote/announce the event, finding the ideal services and products to rent, and more…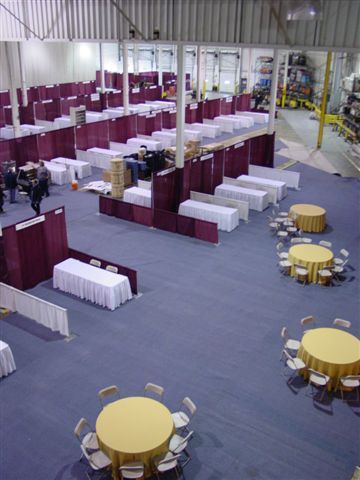 Trade Show Rental Services
When it comes to hosting and managing your company's trade show, the to-do list will include the need to find a variety of rentals that are needed to support the overall theme, as well as display the company's intended message(s).
Furniture Rentals. Choose from a large variety of furniture rentals that are specifically made to compliment your particular company's intended message. A great tip is to take a close look at your company's current furniture in order to give you a great starting place on the best types of furniture styles from which there are to choose from.
Display Rentals. Choose from the many options there are for renting displays that can greatly compliment the overall trade show theme. Depending on your particular event, you can select display rentals that are simple and elegant, or maybe something a little more bold and eye-catching is more of a fit for you. New rental choices include forward-thinking displays, such as lighted furniture, floors, and walls, which will surely be the talk of the night!
Pipe and Drape. Use the ever-so-popular pipe and drape system, which is being utilized more and more when it comes to hosting/managing a company trade show. This simple decorating technique is easy to install, and has the potential to add a lot of personality to the events overall design.
Design & CAD. It just may be well worth your while to look into having a professional design your company's trade show. Having someone specially design your trade show, especially if it's going to be a particularly large one, can save you lots of time and trouble. This can be quite the help when it comes to figuring out exactly where to place any display rentals as well as any and furniture and/or props that will enhance the overall event.
Props, Décor, and Furnishings
Think about the possibility of adding some props that can add to the overall décor of the company trade show. Also, it may just be worth investigating the idea of adding a few customized graphics that can be tailored to fit your company's specific needs.