Decorating with pipe & drape is the easiest way to transform a space quickly and cost-effectively. Whether you're using pipe & drape to cover one wall or the entire space, it's a proven solution for professional event planners. When designing an event, think of the décor in terms of layers. The higher the budget, the more layers you can add. The first layer will be pipe and drape in some form, and then you can build out from there by adding layers of décor. Below you can find some examples that range from simple techniques to more elaborate and time-consuming methods.
Specialty Drape for Events
If you want to make a big impact, but can only afford to do the drape, you may want to think about using a specialty drape. Gold pipe and drape gives you a dramatic background for an awards show or wedding, while still keeping it a simple and quick installation. There are multiple styles of rental drapes available. Even if you need to ship it in, the pipe and drape hardware is widely available in most rental markets.
Pipe & Drape for Holiday Events
A favorite for holiday events is red pipe and drape. We like to use red velour drape as a basic background for simple holiday displays. If you're setting up a Santa's display, simply add a throne, some winter and toy accents, and you have a nice setting for photos. You can also stripe in one or multiple colors, depending on the look you want.
Pipe & Drape with Lights
Another technique is to use pipe and drape with rental backlighting for events. We like to use a white or silver translucent drape and backlight it with either one or a series of LED lights. With this technique, you can light your drape any color, and change it as you see fit. You can also use solid colored pipe and drape with lights in front. With a powerful enough light, you can also add color to solid drape, or project patterns.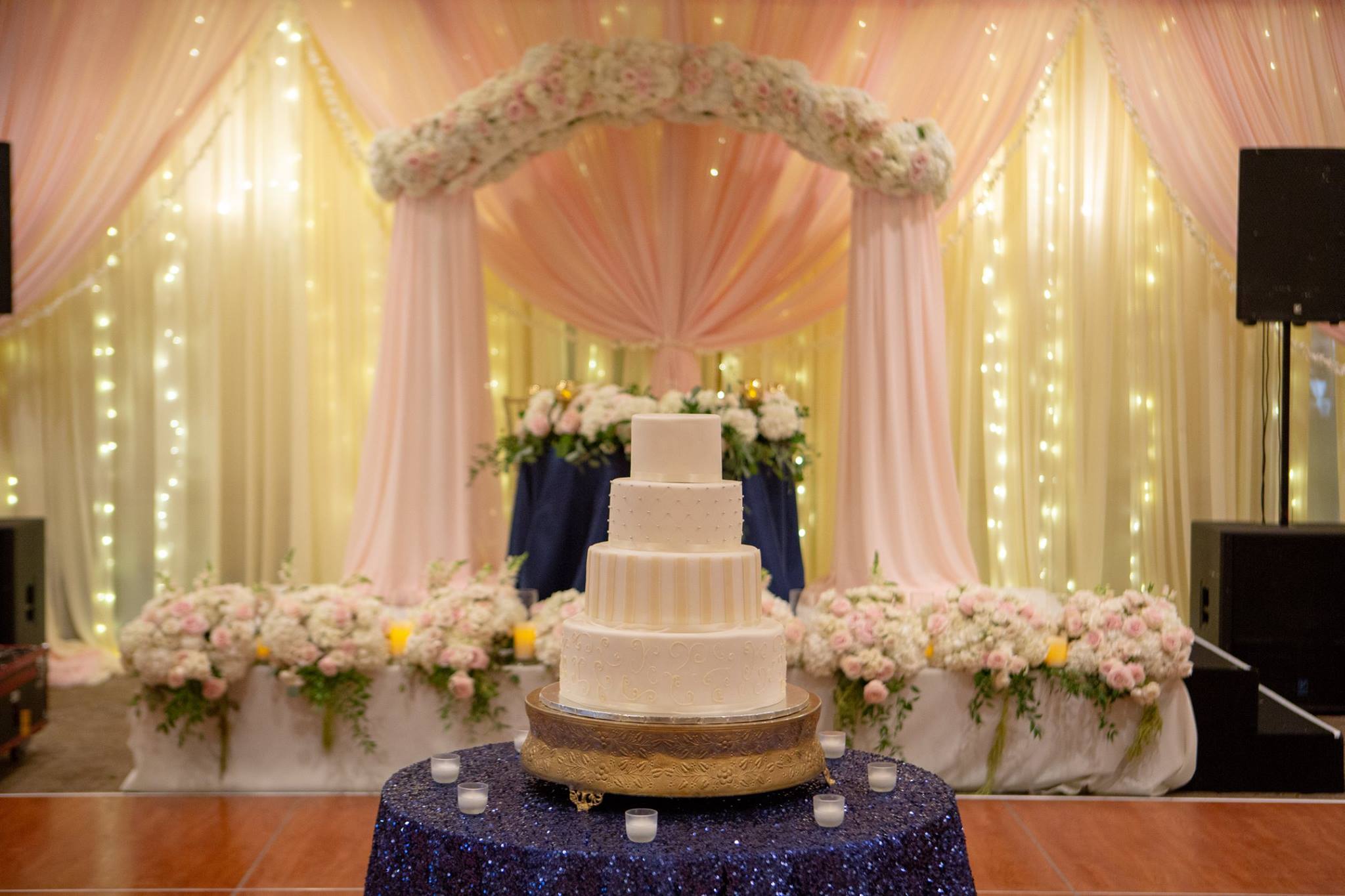 Pipe & Drape for Weddings
For a wedding or elegant affair, we like to use pipe and drape with greenery backdrops. Because of pipe and drapes nature, it's easy to attach greenery to the uprights or crossbeams. There are also simple attachments that can be added to support pipe and drape with flowers or hanging baskets. Many florists will use pipe and drape with white flowers and greenery, creating a lush display for a wedding ceremony.
Pipe & Drape with Backdrops
Another simple way to decorate for a themed event or a stage background is to use a digitally dyed event backdrop. Simply slide the backdrop over the pipe and drape frame and you have a seamless background that looks great, and sets up in 10 minutes. You can add additional décor as the budget permits. We once used over 500 running feet of an outdoor forest background, and added fresh greens and plants, brown furniture and natural décor elements to bring the display to life.
For the true professional, there are special caps that can be added to the top of a pipe upright, giving you two layers of drape. A very dramatic effect is to use one color of drape on the back level, and another color in front pulled back to reveal the rear drape. Use rope and tassels to tie the drape back, or simply use a zip tie and pull the drape over to conceal it. If you still want to take it a step further, add an additional pin and upright on the base, and add a third level of drape of a vallance. If you decide to use this style of drape, you may want to add a base weight or sand bag for extra support.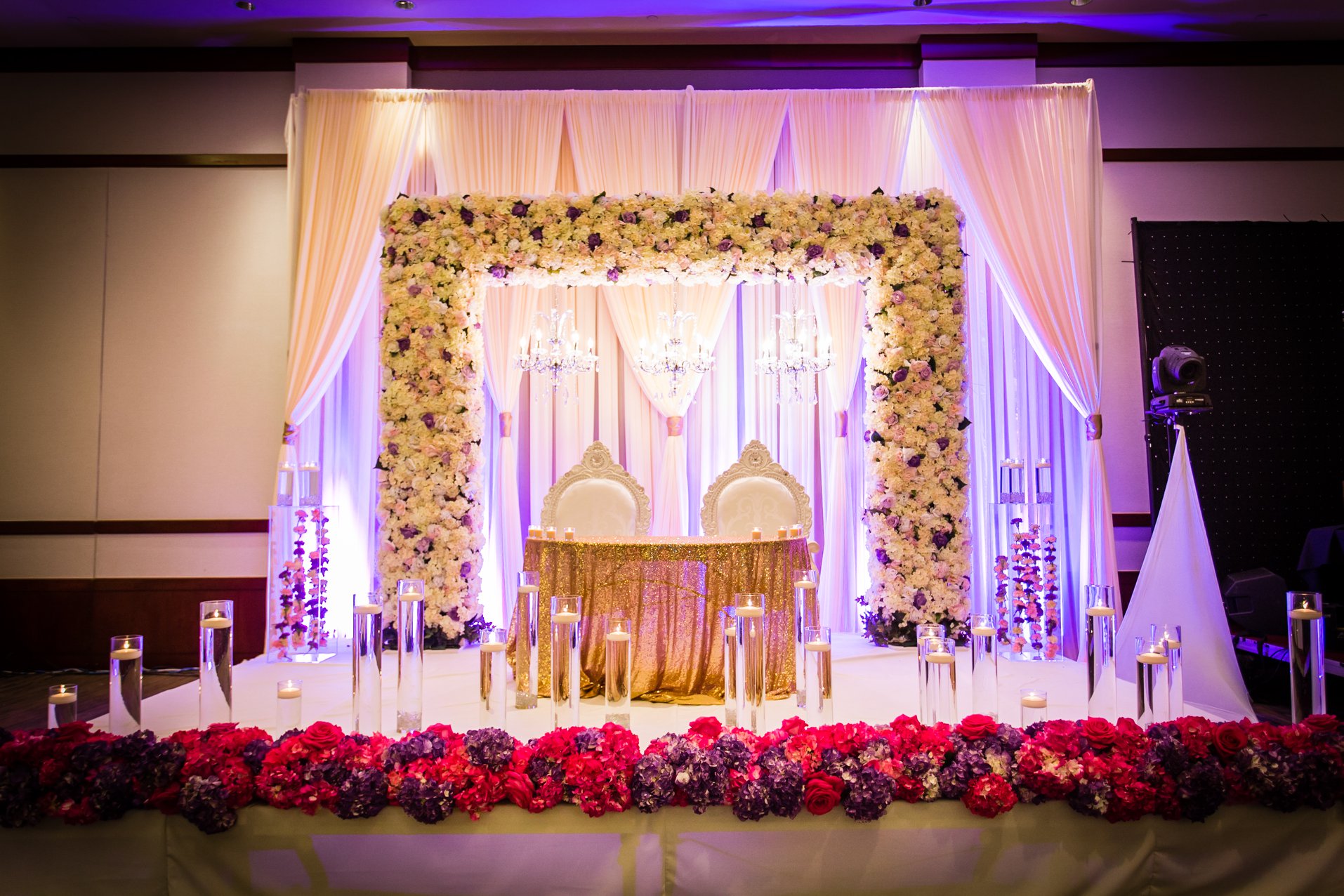 Pipe and drape can be the perfect way to accentuate your existing event decor, or create the elegant look you're looking for. For even more decorations and backdrops for your wedding, trade show, or other event, check out the rest of our event supply rentals.