Pipe and Drape is a combination of four key components used to create temporary walls. The components are bases, uprights, crossbeams, all of which support fabric drape or printed backdrop panels. The setup is simple. The uprights are slipped over the base nipple, and the crossbeams connect the uprights. Then the drape, which has a sewn pole pocket, is pulled over the crossbeam to create your temporary wall. Generally, this system is used indoors, or other environments shielded from the wind. Pipe and drape walls are very functional and often used for crowd control, trade show booths, dividers, and temporary covers for indoor areas that may be under construction. Pipe and drape is also used to create a wide variety of styled backgrounds (or alongside event backdrops) for weddings, and other live events.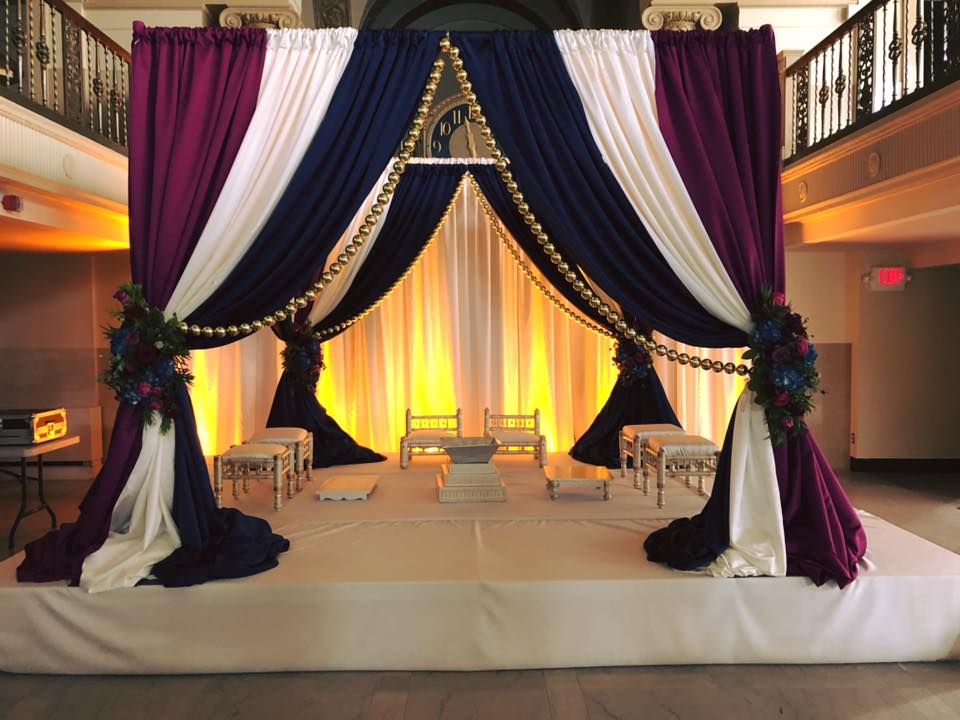 Now let's take a deeper dive into these essential parts:
Pipe & Drape Parts and Setup
Bases
Steel bases come in a variety of sizes and weights, depending on the height and weight of the drape being used. For instance, if you are using a 3' tall section as a divider or entry area, a smaller base is sufficient. The taller and heavier the drape material used, the larger and heavier the bases will need to be. Drape may be floor supported up to 25' Tall. In this instance, we recommend large heavy weight bases, as well as additional sand bags or base weights. Anything taller should be supported from a flown truss or rail.
Uprights
Like bases, uprights come in a wide variety of heights and levels of adjustability. Typically, most companies will stock fixed uprights in 3' or 8' heights for standard room divider walls, crowd control, trade shows or office partitions. We also stock adjustable uprights so you can have the exact size needed for the room. Popular adjustable upright sizes are 6' – 10', 7' – 12', 9' – 16' and 14' – 26'. Adjustable uprights are 2" O.D. and quickly adjust to any size within the range. The upright top has four slots that can receive the crossbeams every 90 degrees.
Crossbeams (Telescoping drape supports)
Running between the uprights supporting the drape are crossbeams. Crossbeams come in a wide array of adjustable sizes ranging from 2' – 3' to 9' -16'. The most popular sizes are adjustable from 6' – 10' and 7' – 12'. Typically, we run our drape crossbeams at 10' wide. If you have a larger area to span, you can use the wider options. Keep in mind, the wider the crossbeam, less drape it can support. If you need to hang drape wider than 16', you should consider a truss support.
Drape
We've covered all of the pipe elements of pipe and drape, now to the most important part, the drape. Drape comes in a wide variety of colors, fabric styles, and weights. At Display Group we routinely create custom drape for clients, and that's how we've built our massive inventory. Some of the more popular drape styles are banjo, for trade shows and expositions; velour, for corporate theater and meetings, and specialty for a wide array of weddings, events and temporary experiential environments.
Printed Backgrounds
Digitally printed backgrounds are easily hung on pipe and drape frames, if you're looking for a more thematic or custom look . We stock 100's of existing styles and designs, and our custom event fabrication team is happy to create a custom background just for your particular needs.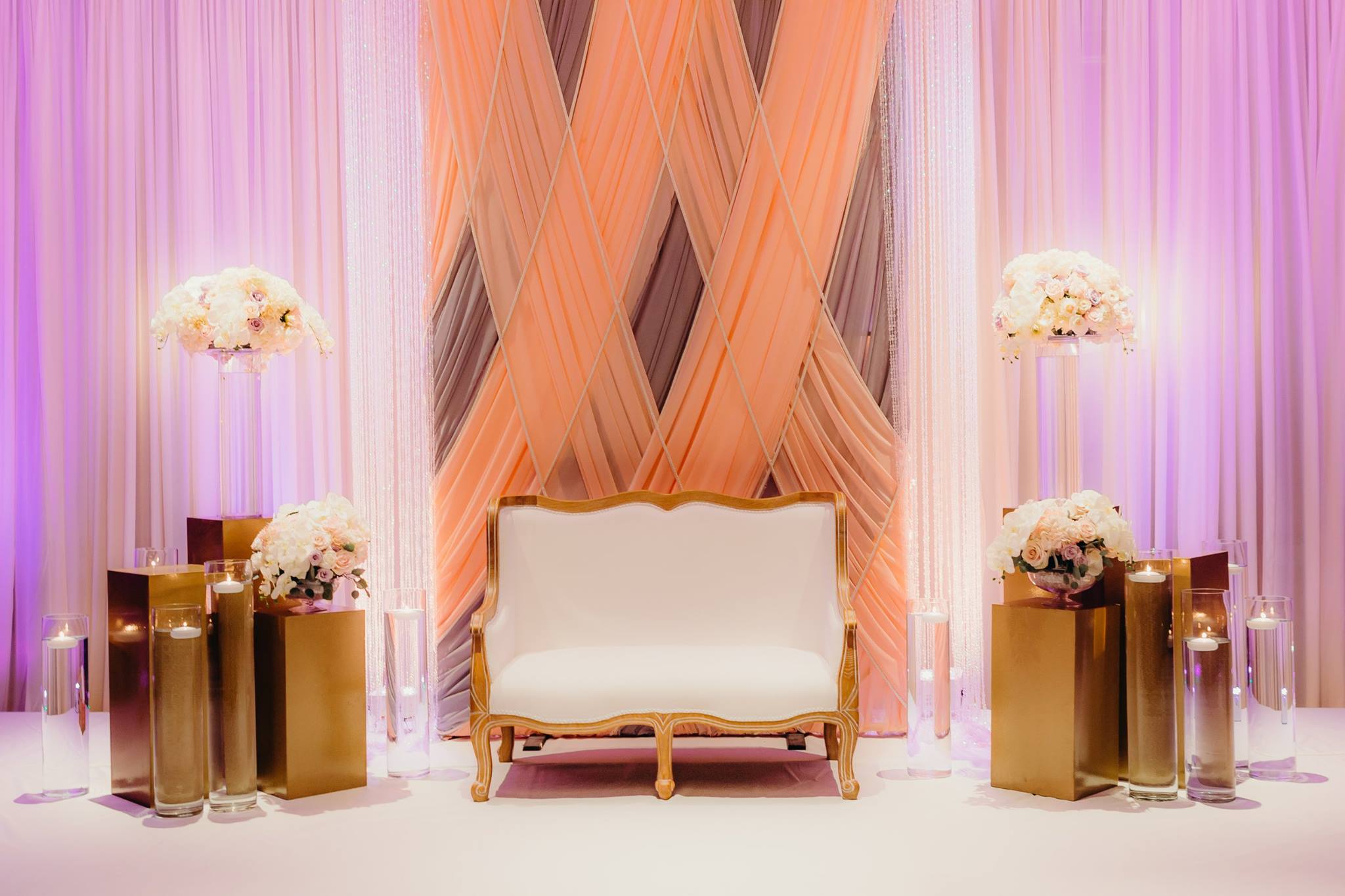 In conclusion, if you want to create temporary walls with a limitless number of possibilities and looks, pipe and drape is a great solution.