Any event held in the world famous DIA – especially within the Riviera court, is almost always guaranteed to be stunning, which is why we here at the Display Group love getting the opportunity to produce an event in that gorgeous space. When the DIA's Founders Junior Council approached us to help with an event, we were ecstatic. The event, Carnevale di Venezia, was to mirror of the famous Carnival of Venice, known for its elaborate costumes and baroque masks.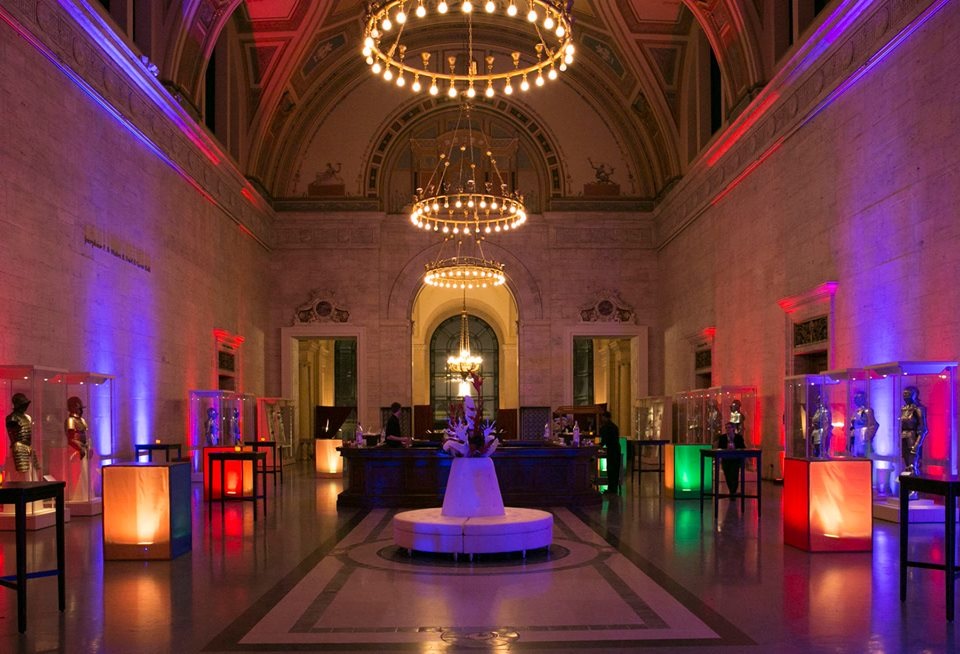 In order to recreate this fabulous Venetian Carnival, Display Group had to pull out all of the stops; combining our elegant furniture with custom made décor. Our gorgeous mahogany bar was placed stylishly in the middle of the room; the expansive bar served many guests with ease and the beauty of the design kept the event feeling upscale. We created intimate seating areas with our posh black and white sectional furniture, alternating in a checkered pattern and accented with the colorful pop of pillows and gold leaf trays. Draping our fully customizable (hyperlink) Cube Tables with colorful fabric and lighting from within created a playful feel inside the regal DIA. Colorful lighting bounced off of the already beautiful surroundings, creating a dazzling and inviting place to let loose.
A focal centerpiece of the evening was our custom designed and built centerpieces which sprouted from our plush white leather ottomans. Designed to evoke the playfulness and ornate nature of the event, these custom black, red and white centerpieces stood tall as a work of art, even when placed in the center of one of the most beautiful art museums in the country.
The event went off without a hitch and people enjoyed our version of the Carnevale di Venezia without worrying about sinking into the canals of Venice.