Display Group was contracted to create a fully functional Mini-Golf course on stage at The Fox Theater for a large corporate meeting. Our task: to create three holes of mini golf, each with its own unique 'obstacle' and theme, all fitting atop of the stage at the theater.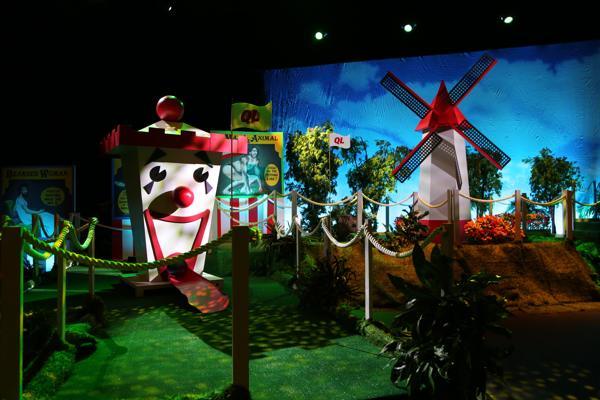 Perched atop the Fox Stage, our designers created the mini-golf course, building it a few feet off the stage, creating stairs to get to various levels. We then covered the entire course in astro-turf and bean assembling the obstacles and themes. We actually created a working three-hole putt-putt course on stage! Hole number one was 'carnival' themed, featured a 11 foot tall "box clown" with its tongue sticking out as an obstacle to get to the hole. The second hole resembled the Holland countryside and featured rolling green hills and an 11-foot-tall functioning windmill. We completed the look with myriads of tulips! The third and final hole was tropical theme, complete with a 12' Easter Island head statue, designed and carved in-house. The statue was the focal piece of the hole and was accessorized with tropical shrubbery, including palm trees. Each obstacle was created particularly for this event by our talented team of artists and designers!
In just under two weeks our designers sketched, designed, carved, built and painted this course to make it come alive! Our custom prop department was working incredibly hard for this event and is prepared to do so just for you! Each piece is now available for rent and can be used separately or combined together or with any of our other event supply rentals! Take a look and tell us what you think!