Oftentimes, when we're planning an event, some things just get skimmed over — "We need 154 chairs," the notes say, but nothing about the kind of chairs (except maybe 'folding' or 'barstools'). But any experienced event planner will tell you that every detail of your event contributes to the ambiance — so you'd better pick your chairs carefully. They're one of the most-repeated style elements of any event, so whatever chair(s) you choose, they're definitely going to have an impact on the guests.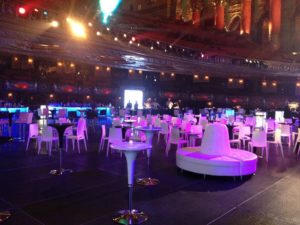 So what do your chairs say about your event? Let's find out.
The HD Stack Chair
This simple, inexpensive chair says just that: 'This event isn't about style or comfort.' When you pick this chair, you'd better have some concept of what the event is about — for most business events, the answer will be 'whatever's happening on stage," but there's definitely also room for this chair in certain minimalist décor setups.
The Marzipan Chair
In contrast, this chair has a distinct style — but it's still inexpensive, stackable, and made of all-weather plastic so it's good indoor and out. The message here is 'this event is all about style — and that style is delicate and/or eclectic.' The chair fits in perfectly at a classic lace-and-roses wedding, or at any number of event themes from 'underwater' to 'Flintstones.'
The Comfort Chair
The other side of the coin, this cushiony chair says 'get comfy — you'll probably be sitting for a while at this event.' Perfect for a European-style seven-course banquet, a seminar with several speakers, or a movie viewing, the comfort chair is as soft as it gets without going all-out and renting lounge chairs for every guest.
The Rustic Wood Elio Chair
For a different twist on the event chair, try this eclectic combination of natural and synthetic materials — a chair that says 'this event isn't your everyday mainstream fare — get ready for some alternative, socks-in-sandals, Portlandia-type goodness.' Best of all, it's still stackable and light, so setup and takedown aren't a challenge.
The Mahogany Folding Chair
Don't think that 'folding' means you're dealing with some generic aluminum chairs. No, this chair conveys an entirely different message: 'We understand that this event necessitates chairs that are easy to use, but we're going to make sure they're really nice chairs.' Pleasant cushions and elegant dark wood make this the right chair for any event that demands a level of elegance, but still needs to be able to go away when the schedule demands it.
The Vinyl Folding Chair
On the flipside, there's the classic — the folding equivalent of the HD Stack. The message is essentially the same as well: 'This event doesn't require anything but the most functional seating, so sit down and pay attention.'
There are, of course, dozens more chairs you can rent for any given event — but we think you get the idea by now. If you're getting married, you don't want to put something like a black folding chair up against the traditional white tablecloths and flowers, but if you're putting on a seminar where the focus needs to be on the stage for almost the entire afternoon, you totally do. Match your chair to your purpose and your style, and you can't go wrong.