The big event has arrived and you have done everything required to prepare for the event. Your invitations received kudos, especially for describing the creative menu that matches the theme of the event. The logistical nightmare of planning for a special event never materialized, as you created and followed a meticulously thought out time line that made Father Time a friend and not a foe. You stayed within your entertainment budget and yet, you hired one of the moist popular bands in the area. Everything appears set for the first guest that is, except for your service team.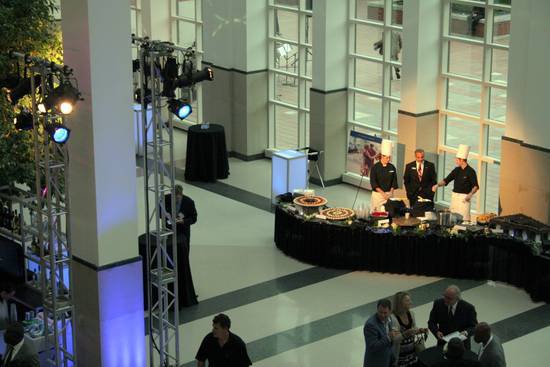 Shoddy guest service during a special event ruins all of your best-laid plans.
What to Look for in a Guest Service Team
Far too many event planners rely on temp agencies for staffing special events. You need to hire an event planning company that recruits and retains professionals dedicated to the hospitality industry. How do we find guest service professionals: By recognizing the traits that separate the pros from the pretenders.
Friendliness Always Rules the Day
Nothing overcomes service miscues better than an event service team that exudes friendliness. From black tie dinners to causal theme parties, friendly special event service teams put guests at ease, which makes them more likely to interact with other guests. Friendly guest service professionals possess patience, as well as a naturally affable disposition that bends over backwards to accommodate guest needs.
Listening Isn't Just for Telephone Operators
Your event service team must have the ability to listen to guest requests and immediately act on the request. This means recruiting service professionals that never wilt under the pressure of guest complaints. The best way to acquire lifelong clients of an event planning business involves turning guest complaints into exemplary guest experiences. Display Group accomplishes this by hiring service professionals that listen and then quickly respond to what they've heard.
No I in Team
You've heard the mantra myriad times: There isn't an I in team. However, how do we identify event service professionals that put the success of an event above their self-motivated needs? The answer lies in the types of questions that we ask during interviews, as well as the training provided that emphasizes teamwork. Special events rarely succeed, without the service team working selflessly together to exceed guest expectations.
Few Leaders, Many Followers
What happens when your special event staff comprises mostly banquet captains? You get an event service team run by a bunch of order barkers and no one responding to the barking orders. Display Group recruits service team leaders that lead by example, not bark orders like drill Sergeants on the battlefield. Your event service team can only succeed as a team, if the team has one, maybe two leaders.
Willingness to Learn
Display Group teaches service technical skills, but we cannot teach personality. We premise our recruitment philosophy on hiring outgoing and friendly personalities, even if it means taking the time and resources necessary to develop technical skills. We are much better off training friendly service professionals on how to set banquet tables than we are hiring a malcontent that knows how to open a bottle of red wine.
Planning and executing special events requires a company such as Display Group that can wear all of the hats required to make events special. One of the most important things event planners do involves making sure the service team exceeds the expectations of guests. Most of the time guests mention other event hits that include party décor, quality entertainment, and tasty menu. Yet, providing exceptional guest service often determines the long-term success of event planning companies.