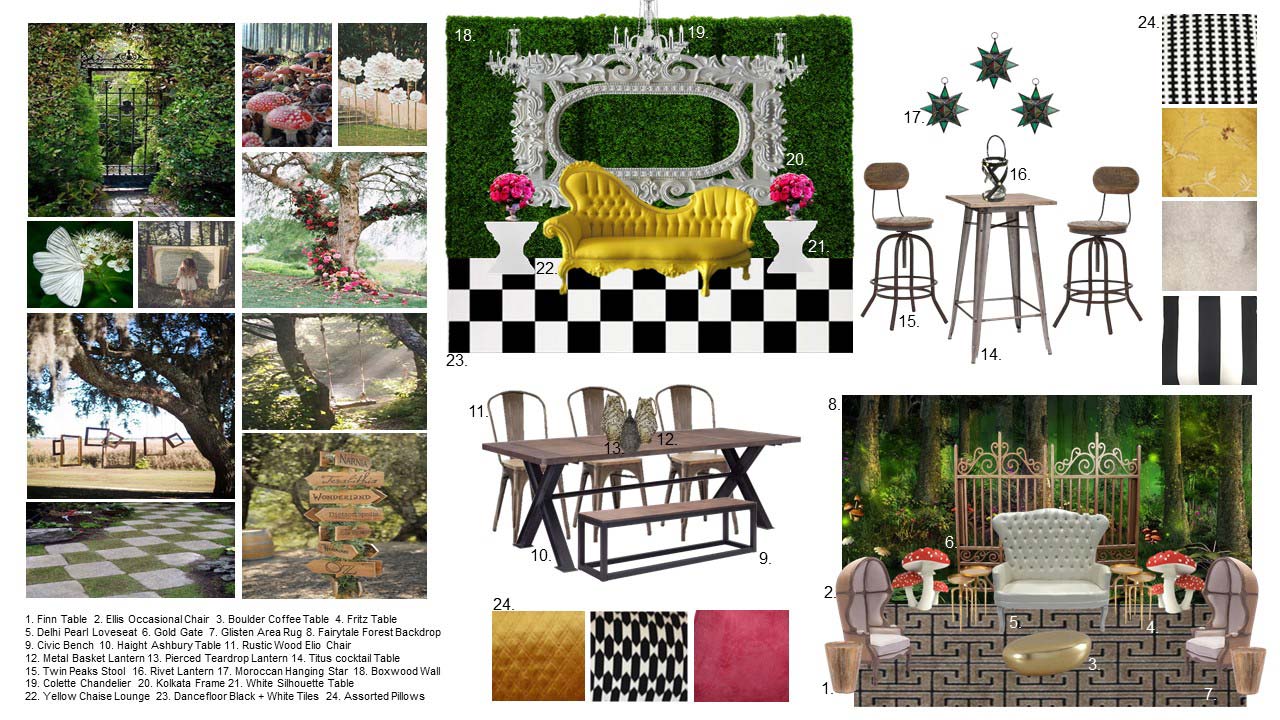 1. Finn Table | 2. Ellis Occasional Chair | 3. Boulder Coffee Table | 4. Fritz Table
5. Delhi Pearl Loveseat | 6. Gold Gate | 7. Glisten Area Rug | 8. Fairytale Forest Backdrop
9. Civic Bench | 10. Haight Ashbury Table | 11. Rustic Wood Elio Chair | 12. Metal Basket Lantern
13. Pierced Teardrop Lantern | 14. Titus Cocktail Table | 15. Twin Peaks Stool | 16. Rivet Lantern
17. Moroccan hanging star |18. Boxwood Wall | 19. Colette Chandelier | 20. Kolkata Frame
21. White Silhouette | 22. Yellow Chaise Lounge | 23. Dancefloor Black + While Tiles | 24. Assorted Pillows
Design Director Cheryl Behnke and Designer Jamie Pecina create this months event inspiration board, 'Secret Garden' mixed with Fairy Tale components.
"Fairy tales are rich visual narratives that inspire the imagination both consciously and unconsciously.  Magical, fantastical scenes and settings like whimsical secret gardens and Alice's Wonderland inspire spellbinding and playful décor that pulls the guests out of their everyday surroundings and push the bounds of reality" says Behnke.
"The enchanting, sweeping florals against lush green backdrops, accented with pattern and pops of color, and encounters with over scaled mushrooms and butterflies create an experience found only when immersed in the characters and narratives in a storybook."
Cheryl and Jamie keep the Secret Garden feel throughout the event by mixing greenery, wood and metal inventory pieces and pops of color. For a unique event component, our Kolkata frame is used horizontally and with the boxwood wall.