Let's talk about how to create a budget for a successful association event. Basically, this involves first establishing what your total budget is — that's the easy part. Then you have to figure out how that number is going to break down to cover the long list of expenses an association event generates.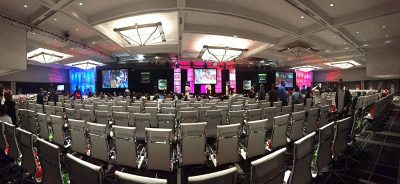 The Long List of Expenses (Note: even this list is far from comprehensive — there are always unique, unanticipated, and last-second expenses, so don't ever fill this out to 100% of your actual budget. Keep at least 5% free for emergencies!)
Logistics
Permits
Legal (Contracts, etc.)
Insurance
Marketing
Paper (Design, Printing, & Shipping)
Electronic (Email, Social Media, Surveys, Website)
Photography & Video
Media Liaison
Sponsors
Volunteers, Staff, & Speaker(s)
Total Compensation (wages, gratuities, thank-you gifts, other)
Travel & Accommodation Expenses
Food
Facility
Venue Fees
Décor, Furniture, and Settings Rental
Catering
A/V (Rental and labor)
Security & Guest Tracking
Wi-fi (Signal and IT)
Storage
On-Site Communications
Mobile App
Posted (Signs, Maps, Banners)
Paper (Schedules, Maps, Flyers)
Registration
Pre-Registration (Website, Direct Mail)
On-Site Registration (Badge Printing)
Activities & Entertainment
Attendee Services
Transportation
Storage Services
This list doesn't even begin to get into the details of each of these points, some of which could probably be articles or entire books unto themselves. But it is a jumping-off point for an association event planner to comprehend just how important and difficult it is to fully budget an association event. Fail one part, any one part, and the event is rapidly approaching doomed.
Succeed, and you can move on to the next step. — Come back next week to learn what it is! Seacrest out!