Planning your next special event requires considerable planning from selecting the appropriate menu items to choosing the date and time of the big event. The amount of forethought needed to pull off a successful event is why Display Group has emerged as one of to go to event planning companies in metro Detroit. For example, we selected an ornate venue for hosting Future Detroit, a popular networking event that advances the goal of making Detroit a better place to live. Display Group helps clients walk through every step of the event planning process. First, you need to learn how to find the right venue for your next event.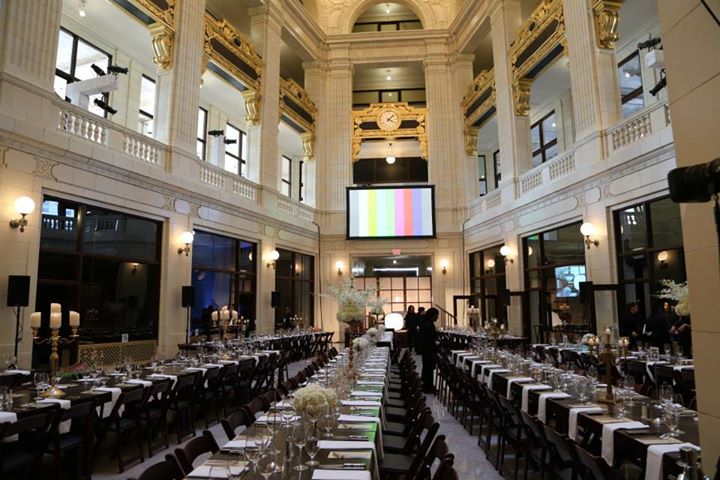 Location, Location, Location
Venue location represents the first and perhaps most important decision that you make in preparation of your next event. For a holiday theme party thrown for friends and family that predominantly live in the northern suburbs, you want to consider facilities located in suburban communities such as Auburn Hills, Michigan. If your event attracts a large number of professionals from out of town, then a spacious banquet room located downtown makes the most sense. Display Group has dedicated event planning specialists that know how to find the location for your big event.
The Venue Must Match the Event
Formal dinners do not work in a Holiday Inn banquet room and a raucous class reunion probably should stay away from the Ritz Carlton. Consider the type of event planned, the estimated budget, and the number of guests expected to attend. The three factors provide the foundation for ensuring your event matches the venue selected to hold the event. A venue too small causes discomfort and a venue too large inhibits social interaction. Display Group recommends clients err on the side of renting a large event space. You can always seal off portions of the room to accommodate lower than expected guest counts. Personal events, such as wedding anniversaries require more formal, intimate venue settings, while corporate award ceremonies work best in venues that promote a casual ambiance
Venue Services Matter
Although finding the right location and a venue that matches your event sit number one and two on your venue criteria list, the services provided by the venue can make or break the deal. Most event facilities offer some form of catering service, but the form of catering service is what matters. If you host a morning event that only requires breakfast service, you do not need to find a venue that includes an elaborate kitchen and employs well-trained servers. An event planning company helps clients choose services that are commensurate with the event. The event planning company should never request services you do not need that add unnecessary charges to your venue bill. You have to include microphones, sound systems, chairs and tables, and portable bars as some of the services to consider for your next event. For business seminars and class reunions, audio and video equipment allow you to display high-resolution images that keep your guests both informed and entertained. Food and beverage offerings comprise the most important venue service. Display group believes in providing numerous menu options to satisfy the culinary preferences of a wide variety of event attendees.
Display Group specializes in finding the right event venue that does not bust your budget. Your event should be held at a venue that corresponds to your event. If you hold a fund raising event at the local art museum, it makes sense to hold the event at the art museum to highlight the museum's best features. Display Group handles all of the event logistics, including venue size, location, and parking. Our team of event planning experts also ensures the proper food and beverage licensing requirements. Regardless of your event, Display Group designs event layouts to encourage interaction, whether guests interact during a wedding reception or like-minded professionals network during a seminar break.