Any event where people are going to dance — whether it's a wedding or a quinceañera or a nonprofit mixer — can benefit from having a dance floor that enhances the atmosphere. If your dance floor is too small, people have to crowd together, and that can get uncomfortable (and not just because of the heat!) If it's too big, the dance floor will make the non-dancing guests feel like leftovers, and can rob an event of its intimacy.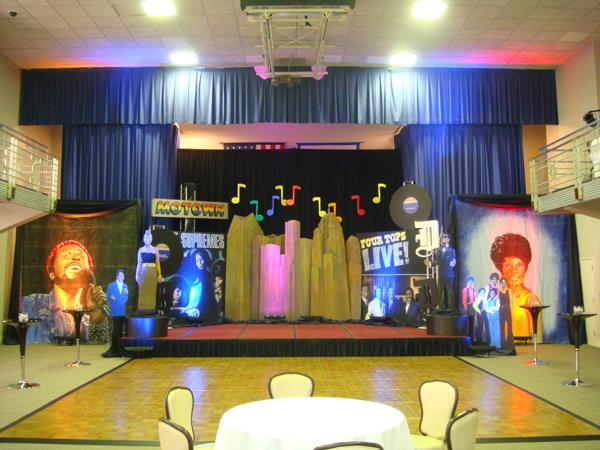 To make sure you get your dance floor just right, you need to ask yourself the following questions:
Where Will the Dance Floor Be?
Will the dance floor be in the center of the room, or off to one side? Will it be outdoors, on a platform, or on the main floor? The first big concern here is placing the dance floor where it will be as relevant as it needs to be and no more — so for a wedding (where the bride's first dance is a must), the floor must be front and center. For a mixer, it can be off to the side. The second is making sure that the dance floor can be danced on safely — for example, for an outdoor dance floor, you might need to put down a subfloor, which will add to the cost and setup time.
How Big Do You Need Your Dance Floor to Be?
There's a simple metric for determining the size of a proper dance floor. First, assume that half of your crowd will actually dance — that's an overestimation for most events. (Obviously, if your event mandates dancing, you can use the full amount of participants.) Then, assume that each person requires 4 square feet of space. So if you have 250 people at your wedding, that's 125 dancers, or 500 square feet of dance space — so a 20×25 dance floor should be plenty big.
What Does the Décor Look Like?
Modern dance floors come in a huge variety of colors and styles — you can get wood grain, stamped metal plates, plain white, or even exotics like LED lighted dance floors. If you're looking for a traditional, more intimate or romantic floor, it's hard to beat oak parquet. If you want to highlight the dancers, a white dance floor can do the job marvelously. But if you want to show off your awesome special lighting effects, a glossy black floor is a great place to project custom spotlights onto.
How Can Your Dance Floor Fit Into Your Budget?
Of course, a simple wooden dance floor is going to be the least expensive — and no one will complain about dancing on one! But there are an extraordinary amount of options for customizing your floor as well, from the different kinds of finishes and platforms we can use to perfect your floor — so don't think that choosing wood means you don't have to think about it any more!
Do You Want Your Dance Floor to Pop? Or Vanish?
Display Group can put together a dance floor that will practically disappear into almost any space — or one that will be the centerpiece of your event. Which would be better for your group? Find out today by calling Display Group and talking over your event with us.