When it comes time to host your next corporate meeting and/or corporate event, Display Group can help you with every detail! Display Group will provide you with a unique space, as well as make available any and all rentals needed, such as furniture, décor, and video/audio.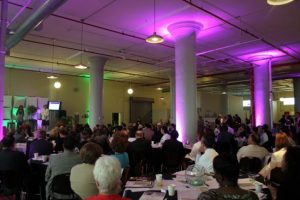 Studio dg Corporate Event Space
Studio dg has hosted many successful events in their display studio and has decided that it would be a great idea to open up this unique space so as to allow for corporate meetings and/or events. The building is a classic 1913 era building, with 10,000 square feet of white space loft, making this open space distinctive in its appeal. Perfect for hosting any type of corporate meeting and/or corporate event, imagine yourself with your associates talking business in this extremely welcoming and comfortable atmosphere – extra tall ceilings with poured concrete columns, hardwood floors, as well as great views of the Detroit River!
Event Products and Services
Display Group offers many products and services from which you can choose, making it so that you are sure to find something that is just right for you and your particular meeting and/or event. Additionally, since you are already in Display Groups building, you will have full access to any and all furniture, décor, and/or lighting needs, which are merely a hop, skip, and a jump away. This gives you many options so you are able to create the exact type of environment that you require for your particular type of corporate meeting and/or corporate event.
A full 10,000 square feet of white space loft!
On-site lighting, staging, and event rentals for easy access!
Ability to utilize the thousands of decorations and rental options Display Group has!
Access to audio and video rentals!
An on-site graphics studio!
On-site loading docks as well as labor!
A car ramp for easy access!
Event Management
Display Group, and our network of providers, has a wide-range of event management resources so that you are able to create and realize the vision you have in mind for hosting your particular corporate meeting and/or corporate event. The range of displays, props, furniture, as well as soft goods and other rental equipment is enormous, and housed in their 200,000 square foot facility. A custom design and fabrication studio is also available in addition to an in-house graphics department. We can also help you with the following:
Entertainment
Keynote Speakers
Headline Entertainment
Local Entertainment (a variety of options are available)
Performance Art
Special Effects
Production
Staging
Audio Production
Video Production
Light Production
Directors, Managers, and Technicians
Contact us today to inquire about our Detroit Corporate Event Space.