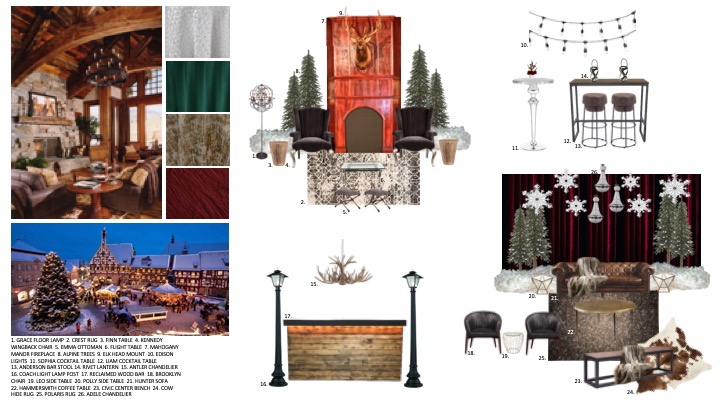 As we enter the snowy season, visions of hunkering down next to a crackling fireplace in a cozy mountain lodge come to mind. Whether it's the prospect of skiing on the slopes or warming up with a mug of hot cocoa, there is something about that rustic winter setting that warms our souls.
This time of year we find ourselves inspired by Alpine-style rustic décor with glamorous, metallic accents. A nod to the traditional mountain cabin, we love the layered patterns, mixed metals, and rich colors that contrast against the dark wood grains and distressed leathers. Plush velvet fabrics and faux furs add a layer of tactile luxury, while crystal and beaded light fixtures add an element of sparkle and glitz.
Rustic chic meets a touch of big-city glamour by adding more polished elements such as a mirrored cocktail table and glass topped, and hammered metal tables in various finishes. A neutral, calming color palette allows the rustic architectural elements to shine, and rich shades of emerald green, gold, and deep burgundy pop.
Who says an alpine theme can't be elegant?!
1. Grace Floor Lamp   2. Crest Rug   3. Finn Table
4. Kennedy Wingback Chair   5. Emma Ottoman  6. Flight Table
7. Mahogany Manor Fireplace   8. Alpine Trees    9. Elk Head Mount
10. Edison Lights  11. Sophia Cocktail Table    12. Liam Cocktail Table
13. Anderson Bar Stool   14. Rivet Lantern   15. Antler Chandelier
16. Coach Light Lamp Post     17. Reclaimed Wood Bar  18. Brooklyn Chair
19. Leo Side Table     20. Polly Side Table  21. Hunter Sofa
22. Hammersmith Coffee Table   23. Civic Center Bench
24. Cowhide Rug    25. Polaris Rug    26. Adele Chandelier