Nautical event décor, neon signs, and catchy puns Rock the Boat with our sea port influenced design inspiration this month! Crisp white, rustic wood tones, silver and gray, navy, and other aquatic shades of blue compose a pallet reminiscent of the textural layers of water, rocky coasts, fishermen's wharf shingled shacks, and boating excursions that make up any seaside landscape.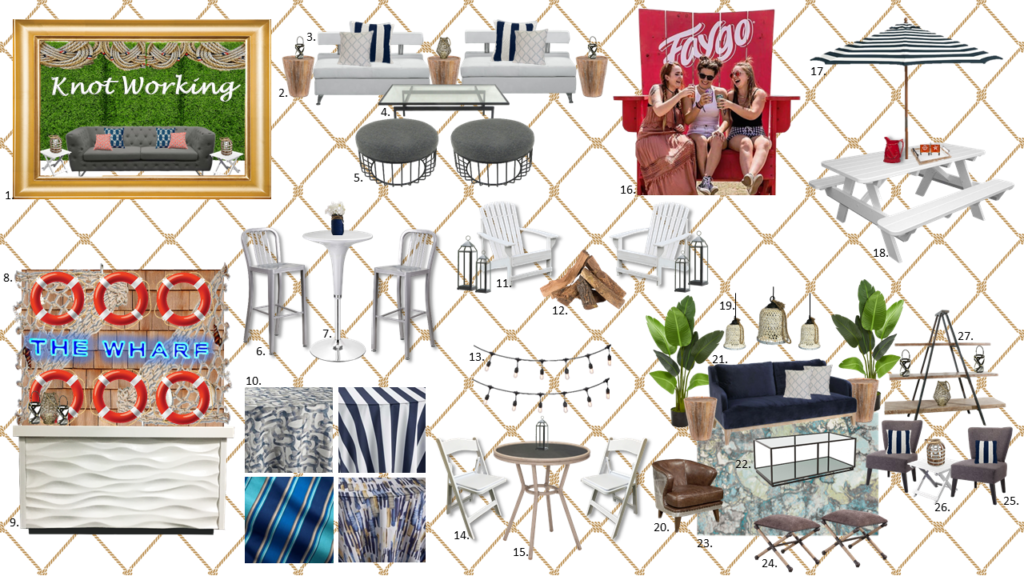 The repetition of nautical stripes in furniture, textiles and accessories add a layer of nautical charm to a curated collection of furniture inspired by lakeside cottages and boating excursions. Lanterns, string lights, and our campfire prop along with accents of looped and knotted ropes add even more atmosphere to take your nautical event up a notch.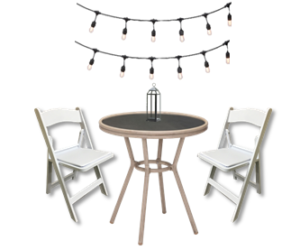 Custom design elements such as a giant, brand-able Adirondack chair, a boxwood wall and over scaled frame photo op, and a custom "The Wharf" bar back complete with buoys and a neon sign create show stopping and photo worthy moments for guest to interact with and make it an event to remember.
Invite your guests to come sail away – contact us today and transform your venue into a coastal getaway at your next, best event!
INVENTORY ITEMS:
1.CUSTOM PHOTO OP
2.FINN TABLE
3.ASHLEY SECTIONAL
4.FLIGHT TABLE
5.COOPER OTTOMAN
6.SILVER SLAT BACK BAR STOOL
7.GELATO TABLE
8.CUSTOM BAR BACK
9.DRIFT BAR
10.VARIOUS LINENS
11.ADIRONDACK CHAIR
12.CAMP FIRE PROP
13.STRING LIGHTS
14.WHITE RESIN FOLDING CHAIR
15.MADDIE BISTRO TABLE
16.OVERSIZED ADIRONDACK CHAIR PROP
17.STRIPED UMBRELLA
18.WHITE PICNIC TABLE
19.VARIOUS LANTERNS
20.MAVERICK CHAIR
21.COLIN SOFA
22.STUDO TABLE
23.DEEN RUG
24.EMMA OTTOMAN
25.JOEY CHAIR
26.ADIRONDACK SIDE TABLE
27.SHEDD SHELF