One of the most annoying misconceptions the typical American holds, at least when it comes to the life of an event planner (or those closely allied with event planner, like the experts here at Design Group), is the association of 'predictability' with 'banality.' An event that is banal (boring, mundane, everyday) is never going to be memorable. But dear stars in heaven, that in absolutely no way means you want an event to be unpredictable. On the contrary, the more predictable your event is, the more assured it is to be a success!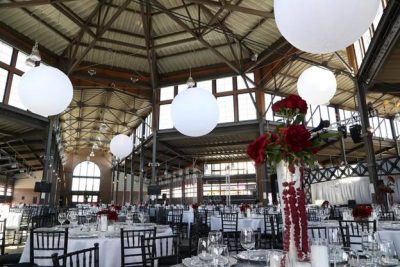 So What's the Difference?
"Predictable" means "everyone knows what's going to happen before it happens." How many times have you gone to a major event and not gotten a schedule of what's happening, when, and where? Does the fact that you know ahead of time that Iron Chef Masaharu Morimoto is going to be speaking starting at 3pm take anything away from the excitement of knowing that Iron Chef Masaharu Morimoto is going to be speaking starting at 3pm? No. No it doesn't.
The opposite of "banal" is not "unpredictable." The opposite of "banal" is "extraordinary." There's absolutely no rule that says you can't plan, schedule, and execute-like-clockwork something extraordinary. In fact, in a very real sense, the ability to plan, schedule, and execute-like-clockwork is something moderately extraordinary in and of itself! When you can pull that off and do it with subject matter that is awesome, that's when you achieve the kinds of results that people will remember for a long time to come.
Practical Examples
Let's play "Banal vs. Extraordinary!"
Place Settings: White linens, crimson chargers, white dishes? Or translucent tablecloth with under-table color-changing LEDs, chrome chargers, and glass (transparent) dishes?
Entrance: A door with a "Birmingham Architectural Group Summer Meeting" sign printed out and taped up? Or a custom-made Victor-Saroki-inspired architectural door surround with projected B.A.G. logo in an arrow on the floor pointing inward?
Furniture: Folding chairs and collapsing tables? Or extended sectional sofas with slide-up tray tables and ottomans?
Speaker: Your small Internet marketing firm's president, Jared? Or online marketing superstar Neil Patel?
Food: Catered chicken breasts with green beans and fingerling potatoes? Or your choice of seven food trucks pulled up out back, including Mexican, Greek, Indian, Korean, and American?
Team-Building Activity: "Guess which President's name I have taped to my forehead?" or "Live action escape-the-room puzzle?"
Practical Examples, Take II
Let's play "Predictable vs. Unpredictable!"
Food Service: The caterer's son's school calls and he has to leave right as lunch starts? Or all seven food trucks are on time, fully-stocked, and ready to serve?
Speech: Jared's projector gets hacked by a malicious attendee who starts forcing it to display X-rated images during his speech? Or Neil Patel gets a standing ovation and walks out the door excited to have gotten your name as a referral?
Team-Building Time: A fight breaks out over whether or not Willard Fillmore was the least memorable President ever? Or the group finally succeeds at escaping the room puzzle only to learn that the other team made it out 45 seconds earlier and is already in line for their award sangrias?
Do you see the difference? Banality happens during the planning stage, because the planner doesn't think big or reach for a high bar. Unpredictability happens during the execution stage, because the planner isn't prepared when something goes wrong (and believe us, something always goes wrong.) A great planner is ready when something goes wrong and has the answer. A great planner convinces Neil Patel to join the escape-the-room puzzle, talks Victor Saroki into making an unannounced guest appearance out between the food trucks, and is also there with the right answer when the unexpected threatens the perfect, awesomely predictable plan.