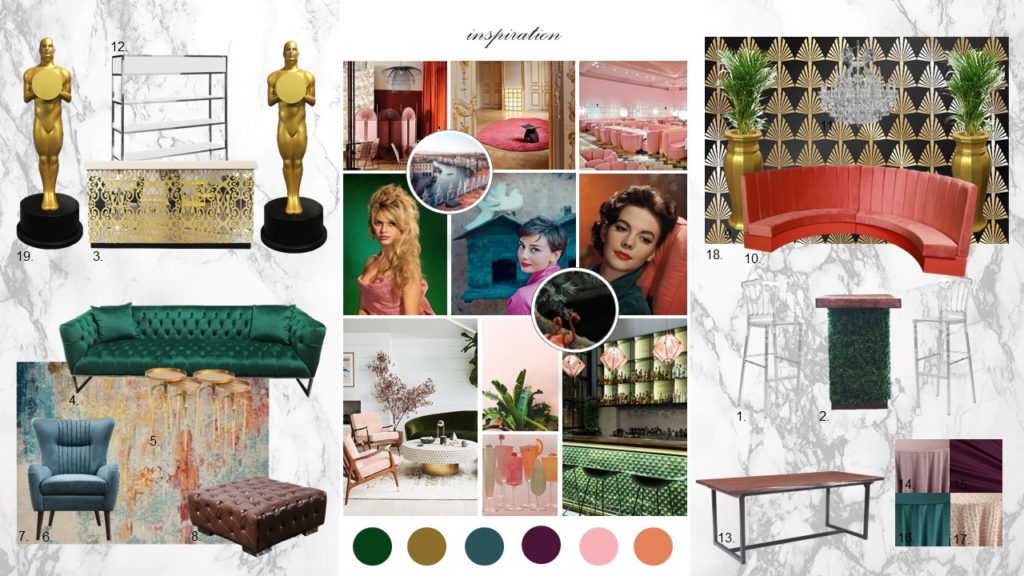 1. Napoleon Bar Stool | 2. Boxwood Cocktail Table | 3. Baroque Bar | 4. Ethan Sofa | 5. Fritz Occasional Tables | 6. Goodman Chair | 7. Blanche Area Rug | 8. Cognac Regency Ottoman | 9. Gold Faceted Urn | 10. Hollywood Banquette | 11. Anastasia Chandelier | 12. Essex Bar Back | 13. Live Edge Table | 14-17. Assorted Linens | 18. Art Deco Palm Backdrop | 19. Award Statues
February is thought of as the month of love and our designers love Hollywood glam! Pulling inspiration from famous screen sirens such as Brigitte Bardot, Audrey Hepburn, and Natalie Wood, Design Director Cheryl Behnke and Designer Jamie Pecina created this month's inspiration board.
"The screen sirens from the 1930s, 1940s, and 1950s represent a bygone era of glamour, sophistication and sensuality behind the Hollywood smokescreen.  Their legendary beauty and charisma live on, and continue to inspire fashion and interior design today.  Hollywood Regency style dates back to the 1930's when Hollywood was in its "Golden Age" and producers wanted to complement the larger-than-life stars on the silver screen, so they designed their sets with opulence in mind.
Emphasizing glamour, Hollywood Regency style furniture tends to have rich textures, contrasting colors, and luscious curves. The design details are sumptuous and luxurious, executed with a mix of bold statement pieces and delicate accents, Hollywood Regency balances lavish fabrics and finishes with traditional architectural elements," says Behnke.
The blush tones, golds and emeralds that were featured in interiors during the glamorous period are reflected in the linen selections, custom vases and bar, and our new emerald green Ethan sofa and boxwood cocktail tables. Made in-house, our mirrored baroque bar, salmon banquette and gold faceted urns are the perfect accent pieces to glamorize your event.