As we mentioned a couple of weeks ago, as an event designer, one of your prime opportunities to really create an emotional impact on your attendees is as they arrive at and enter your event venue. The best event entrances leave guests mesmerized, overawed, amused, or even seduced before they even get through the door. It wipes out the banality of the everyday world and invites them into a place that is an experience — one they'll remember for a long time to come.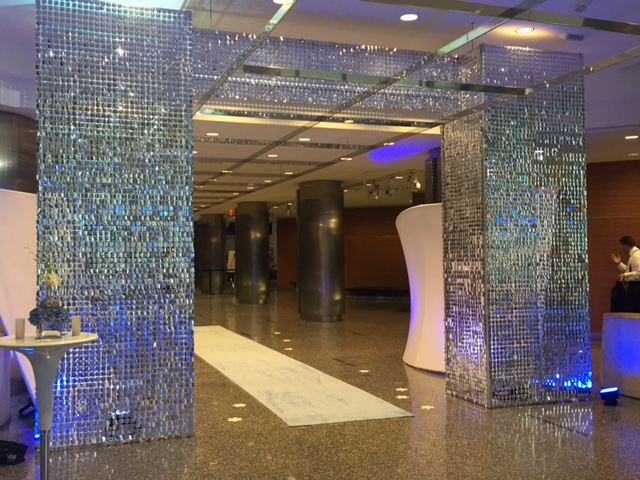 With that in mind, here are a some examples of easy, inexpensive ways to wow your guests as they arrive.
Color Washing
If your venue has plenty of visual interest already — maybe because of its extraordinary architecture, or the centuries-old ivy-covered pergola — you don't need to do a lot to turn it into something amazing. A few well-hidden "wallwasher" lights and possibly a couple of uplights on some particularly accentable accents can turn what was already something special into something spectacular!
Image Projection
Any flat surface can become a stunning visual with the use of custom-crafted lenses and filters that turn a spotlight into a projection. Put your corporate logo in brilliant color on the ground outside your venue. Put your bride and groom's initials — with the bride's last initial changing slowly over time — up on either side of your front door. As long as it's dark enough outside, a projected image can be almost anything you can dream up, which makes for an infinite variety of potential awesome entrances.
Classic Red Carpet
There's nothing more evocative of luxury and class than a Hollywood-style red carpet — particularly if you throw in some of the classic red carpet amenities like a step-and-repeat logo screen to take pictures in front of and some crushed-red-velvet ropes between chrome stanchions. All you need is a rain-free occasion and guests that are prepared to dress classy, and rolling out the red carpet can be an easy way into attendee's memory banks.
Story Tunnels
By building a tunnel — either literally or simply using a series of screens to set up a hallway — and putting projectors up to display short (4-5 second) scenes on each panel, you can use a spare 30-60 feet in front of the venue's door to tell the story of your event. It can be the history of your brand, the purpose of your current initiative, or a series of snapshots of what they can expect their donation to provide. Your imagination — and the number of screens you can fit into the space — is the only limit.
Follow up your phenomenal entrance with a warm, professional greeting by the event staff on the inside, and the effect is complete: your guests will enter your event already wowed and ready to stay there. All you have to do then is follow up!