Here at Display Group, we know that a lot of thought goes into choosing rental furniture for an event, Layout – along with furniture color, style, and placement — all need to be considered. Otherwise, how can guests enjoy themselves and the event space, standing there with nothing to sit back and lounge upon?
After 30 years of rental service and experience, we've learned a thing or two about event logistics and rentals options. And we're always excited to expand our offerings. That's why we're stoked to tell you about one of our most recent offerings, TotallyMOD rental furniture!
Furniture Highlights
TotallyMOD, by Quest Events, offers some of the most innovative and sleek event seating available. Display Group's current in-house TotallyMOD rental selection includes 68 uniquely designed white sectional modular pieces. And these can all be arranged and connected with one another to perfectly fit your event space, no matter how big or small.
So, want to line your walls with sectional sofas or 'coves' so everyone has a place to sit? We can do that. Want a 'campfire'-style setting with smaller seats and a central table for communal gathering? Absolutely. Maybe add add a few loveseats here and there so people can relax away from the main floor? TotallyMOD offers seating configurations limited only by your imagination. You'll be surprised how flexible and versatile TotallyMOD can be.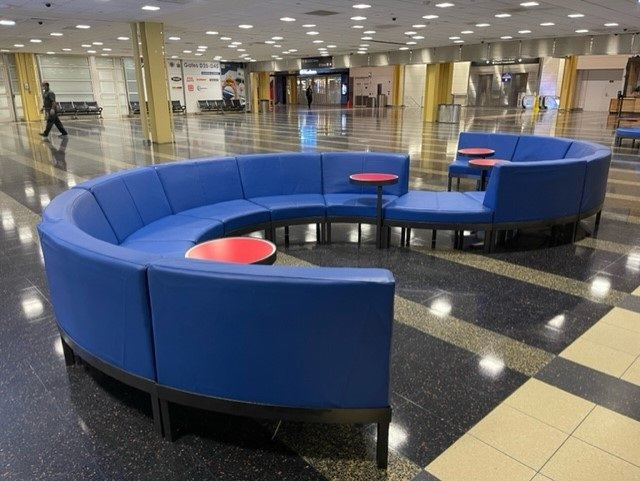 The Flexibility of Custom Furniture
The TotallyMOD line is available in several colors and can be branded with custom artwork. The system even features changeable RGB LED underlighting.
The event design geniuses here at Display Group will help you produce an event that can match your imagination. We're ready, waiting, and confident that our creative collective, combined with the inherent flexibility of TotallyMOD furniture, will be the perfect furniture solution for your next big party, event, or show. And your guests will thank you for it. 
For more information on the TotallyMOD line of custom event furniture, check out our downloadable catalog, or contact us. Because questions are welcome.
Even these days, it seems like guest expectations for events grow by the year. 
Gone are the days where you could just put up a few banners with your logo and hand out the drinks or product samples. These days, if you want to make a big impression, your guests need to be transported when they arrive. 
One of the easiest and most immersive ways to create a mood for your event is through projection mapping! Projection mapping, also known as video mapping or spatial augmented reality, is a projection technique that involves using projectors to project images onto a 3D image (as opposed to a flat backdrop or projection screen). 
Projection mapping allows for a much more immersive experience and greater variety when used as part of your overall event decor. The variety of surfaces able to be used for projection mapping means you can create much more elaborate backdrops and surfaces than you could with normal event decor, more conveniently than with traditional methods of fabrication or setup. 
If you're curious to see how projection mapping can help your next event, here's a few of our favorite examples, and how they could bring your events to life in ways you never dreamed possible.
How to Use Projection Mapping in Your Next Event
Creating a light show
In recent years, projection mapping has been used to create the same illusion as a lighting display, but at a fraction of the cost (and with much less maintenance). By programming your projection map to meet the angles of a building's facade, for example, you can create a dancing and immersive light show along the front of the building without actually having to wire up any lighting rigs or stringing the building with physical lights. This technique has grown in popularity in events like live concerts, Mardi Gras celebrations, and even special nights at Disneyworld, and could easily change the atmosphere of your next event and greet the guests with a little more color.
Immersive walkthroughs
Whether you're trying to transport your guests to another setting, or want to create an interactive experience displaying some facet of your business (the manufacturing process, a walk through the company grounds, etc), projection mapping can be used to completely transform a space and teleport your guests somewhere else. Imagine a long tunnel being projected with footage of your products being developed and assembled, or a space with projected footage of a region of the world to match your themed event decor inside the event space itself. These walkthroughs can be a great way to take your guests wherever you want them to go, and in a much easier way than with traditional monitors and video setups.
Event backdrops
In recent years, big-budget movies have turned to projection mapping to help create a space around their actors that's at once more immersive and easier to control than conventional CGI backdrops. Even if you're not exactly working at a Marvel Studios level, this technique can be a fast way to enhance the look of your event.
Set up projectors overhead to project a moving image or video loop on the main floor of your event space to show off your logo or make the overall event more branded. Line them against the walls to create a moving, looping background that pairs with your existing event rentals to further transform your spaces. With the right footage and careful projector placement, projection mapping can turn any event space into the exact atmosphere you wanted. 
Surface mapping
Even if you don't want projection mapping throughout your entire event, careful texture projection onto a single surface can be the perfect finishing touch your decor needs. When used in conjunction with custom event fabrication, you can create the perfect centerpiece for your event – imagine a massive pyramid with shifting sands and gritty rocks projected over it, or a swirling art piece with images and patterns dancing across it at regular intervals. Surface projection can help make any surface more immersive and interactive, and may actually help with the fabrication process overall.
These are just a few of the ways projection mapping can help turn your event from a good one into a great one. If you want to know more about how Display Group can help set up projection mapping at your next event, or if you just want to know more about how to plan and design your event space, contact Display Group today.
Virtual events have been all the rage over the past couple years, and with good reason. 
As the need to find alternative ways to host events for your organization increased, virtual events gained in popularity as a way to safely reach a much wider audience by harnessing the power of live presentations, video content, and other media forms. These virtual events allowed businesses and organizations to stay in touch with their potential audiences, even when the idea of in-person gatherings was off the table, and remain a convenient and popular option even when live, in-person events started to become a viable option again.
Despite this popularity, however, a lot of businesses still have lingering questions about whether or not virtual events are the right fit for them. Maybe they don't know what types of virtual events they can run, maybe they're not sure how to get started hosting their first virtual event, or maybe they're just not sure if it's applicable to their business and goals.
More businesses can benefit from virtual events than you might initially expect – all it takes is an understanding of your audience, an understanding of your goals, and a little imagination! Here are a few examples of businesses that should consider hosting virtual events in 2022, and what kind of events they might benefit most from:
Virtual Event Ideas for Different Types of Businesses
Local non-profit organizations
Community-based non-profit organizations have gained a lot of popularity and visibility over the past few years as citizens of all ages work to become more community-minded and try to make the world around them a little better place to live. Sadly, a lot of their efforts were curtailed over the past few years, as the pandemic made a lot of their typical outreach or fundraising efforts impossible. 
That's why community nonprofits are the perfect candidates for hosting a virtual fundraiser! Virtual events offer plenty of opportunities to solicit donations and continue your community outreach, all while broadcasting safely from the comfort of a remote location and allowing your guests to contribute their donations online. Even if it feels a little different than the old 'hitting the streets' approach, you'll be surprised how responsive your audience can be!
Local restaurants
Restaurants tend to feel a little left-out of the virtual world due to the fact that their products tend to be something you need to enjoy in-person. During the pandemic, however, many restaurants were able to turn to virtual cooking classes and tasting parties to help draw more eyes to their business, even if you were operating at reduced capacity or unable to operate at all for a time!
Many restaurants have found success by offering small kits containing the ingredients for one of their signature dishes and live-streaming a cooking class to teach your customers how to make it at home. If you'd rather not spill the proverbial beans on your award-winning recipe, why not put together a little sampler kit of some of your favorite recipes, deliver it to your customers' houses, and host a virtual tasting party where you explain the best drink pairings and go into the history of each recipe with your guests from a distance? A lot of food retailers saw great success with these approaches over the pandemic, and a lot of guests will still be happy to see them.
Retail businesses 
Speaking of, you don't have to make all your food in-house to get in on the virtual event fun. A lot of retailers have turned to virtual events or simulcasts to help expand their reach to a new audience, or expose their current customers to new products or offerings they might not have tried otherwise.

If you deal in clothing, you could host a virtual show to model a few of your newest pieces (or highlight some things you're about to be cutting prices on so you can clear the way for new inventory). If you're more of an apothecary, you could sell gift sets of related products (grooming products, facial and hand lotions, etc) and livestream your team explaining the benefits of each one and demonstrating their use. Just because your customers can't come to your store as often as you'd like, doesn't mean you still can't reach out to them!
Software developers/digital media creators
Of course, the idea of showing off your products becomes a little more difficult when they're less tangible, but you can still host events to show off your wares!
Anyone working in the digital space, such as software developers, digital marketers, video producers, and the like can still leverage virtual events to help get your name and products out there. Consider your virtual event to be something of a product reveal – create some footage and slides demonstrating what your team can do and how they've been successful in the past, and use it to highlight a specific avenue or product your business offers. It's a great way to make industry connections and stay in touch with the exact audience you could consider to be future clients, 
Business development/financial institutions
You don't have to run your own business to get involved with virtual events. Business development organizations and financial institutions can also benefit from a variety of virtual events, whether to spread awareness of their services or to help raise money for further local business ventures. 
Your events could include a livestream sent out to various local business owners (or potential entrepreneurs) to demonstrate the ways you could help their business, a webinar covering specific challenges faced by businesses in your area, or a fundraiser to help raise money for your ongoing efforts, or to donate to related business charities and programs in your area.
One way or another, whatever your business or group may specialize in, there's a virtual event out there to help you connect with your customers and reach new heights, even in times where in-person events seem unlikely. If you need the perfect virtual event space to plan your next big virtual event, or if you need help brainstorming the ideal event for your business, contact Display Group today.
Virtual fundraisers have become all the rage lately – and with good reason!
Even as in-person events slowly begin to trickle back over time, many organizations saw the convenience and availability of virtual fundraising events as a great way to keep in touch with their supporters and find ways to raise money, even without needing to (or being able to) schedule a big in-person gala like we used to.
As a result, the need for virtual fundraising won't be going anywhere into 2022, and if your organization hasn't held one before, now is the perfect time to try them out. Virtual events of all kinds are  a great way to stay in touch with your community, bring your teams together in new ways, and engage your donors like never before, even if they're not physically with you at the event.
Best of all, hosting a virtual fundraising event isn't as difficult as you think it might be!
What is a virtual fundraiser?
Virtual fundraisers, true to their name, are a fundraising event held completely online. While your team may be present in an event studio or other location to broadcast to your guests and potential donors, generally speaking, the actual audience is watching remotely from their phone, TV, or smart device without having to be physically present at the event. (There are some exceptions to this, such as hybrid fundraising events, which combine virtual and in-person aspects, but we'll get more into that later.)
Virtual fundraisers can take many forms, but the aim is always the same – virtually hosted events where the guests can still donate money and contribute to your cause and organization, without having to actually be there. The rise in services like YouTube and PayPal have made hosting these events easier than ever, and nonprofit/charitable organizations the world over have turned to virtual fundraisers to help them continue to raise money, even in these uncertain times where in-person events may not be a viable option for every attendee.
What are some different types of virtual fundraisers?
There's a lot of different virtual fundraisers out there, each of them more suitable for certain nonprofits and organizations than others. A few of the most popular types include:
Virtual auctions: Similar to the auctions typically held by nonprofit organizations, but with the added twist of being completely virtual, allowing attendees to bid on these items online.
Cooking classes: A fun way to engage your audience and encourage participation is to host an online cooking class or mixology class, and create different price tiers to allow audience involvement (such as allowing a Q&A with your guest chef after the event) while they prepare their food or drinks at home.
Exercise classes: Similarly, you could enlist the help of a local fitness buff to help your attendees learn new yoga techniques, or just learn how to do push-ups the right way for once, with different donation levels receiving different benefits or add-ons during the course.
Virtual galas: Of course, not every fundraising event needs to be a learning experience – why not help your guests unwind by providing the attendees with drinks and hors d'oeuvres delivered right to their home, encourage some formal wear, and have everyone meet up virtually while you solicit donations? It's all the fun of an old-fashioned gala, without anyone having to leave the house!
Of course, there's also hybrid fundraising events. Hybrid fundraisers, true to their name, are events that combine virtual and in-person aspects; imagine an auction where guests can bid on the items online alongside the in-person bidding, or an in-person gala where people unable to attend can still donate money online in exchange for a digital attendance to the event. 
These events can take many forms, and different organizations will benefit from different approaches!
How can I run a virtual fundraising event?
While planning a virtual fundraiser isn't much different from planning a traditional, in-person event, there's still a lot that can go into it, depending on the event you're trying to run!
Understand why you're hosting this event
Even if your fundraisers have moved to an online platform, you still need to have a strong goal and endgame in mind for your event. Why are you organizing this event? Are you trying to raise money for your organization, or raise money for a specific cause? Do you have a financial goal to reach? Can you compensate for the perceived 'lower value' of online events, even if your operating costs are much lower due to the event's virtual nature? These are all important questions to ask before moving forward, and can help you better understand your goals and needs over time.
Define your target audience
Once you understand your goals and aims with this event, finding out your target audience will be key. Online events can reach a much broader audience, both demographically and geographically, but understanding exactly who to appeal to will be key in attracting guests and making your fundraiser as successful as possible. Don't neglect things like age ranges, time zones, or even upcoming holidays when you schedule your event and try to reach the demographics you need to!
Create a budget and agenda
Once your event goals are defined, you'll need to figure out how much money you can feasibly spend to attain them, and then plan the evening's festivities accordingly. By setting an agenda early on in the planning process, you can better define what you want your event to accomplish and better accommodate for snags or changes of plan along the way, which is always preferable to just making it up as you go, right?
Find the right streaming platform and broadcasting space
Depending on your level of technological inclination, this may be a more challenging step, but an important one for any online event to take. By understanding what sort of platform you'll be using to stream your event (Zoom, YouTube, a private platform), you'll better understand your technological requirements and get an idea of how to prepare for the big day.
The same can be said for broadcasting spaces – your event will still need a space that can handle the actual broadcasting or 'virtual' part of the event, even if you don't exactly need to rent out a ballroom downtown for everyone to mingle in. Your organization will need to locate an event broadcasting space that can handle the streaming duties of the live portions of your event, whether it's the aforementioned auctions or cooking classes, or just someone playing 'party host' as the donations trickle in. This goes double for the internet connection – you'll need to make sure that your space has a strong enough internet connection to broadcast the event, and a plan in the event of dropped connections or other issues. (Our event space Bldg22 has a backup internet connection for just such an occasion, for example.)
Have fun!
Above all else, just try to have a good time with it! Your energy will be infectious to your guests and attendees, even if they're not there, and keeping things light will make it all the more enjoyable for you, your crew, and your guests. After all, isn't that the goal of these sorts of events, even above and beyond the fundraising?
If you're looking to plan your own virtual fundraiser, contact Display Group to learn more about our event supply rentals and other resources for your event!
Virtual events have become a hot topic when it comes to event planning over the last two years, and they haven't shown any signs of slowing down. 
Businesses and organizations of all types and sizes have been relying on virtual events to spread the word about new products and services, raise money for charitable causes, or just help their employees get together more to celebrate an achievement even without returning to the office.
So, by now, if you haven't run a virtual event for your group or business, you're probably considering one. Of course, the first question many people ask is…where the heck do I start?
Hosting your own virtual event isn't nearly as intimidating as it looks – you just need a clear plan and the right event supplies!
How To Host Your First Virtual Event
Create a goal for your event
As it is with planning, well, anything, your first virtual event should start by defining a goal. What are you trying to accomplish with your event? Are you hoping to increase awareness of a product or service, or just expand to a broader audience? Is your event business-related or just for fun? Knowing exactly what you want to do ahead of time will make all the difference when it comes time to plan the finer details.
Find the type of virtual event that best meets your needs and goals
While it may feel like there's a lot of different types of virtual events out there, a lot of them can be boiled down into a few main categories, including:
Virtual fundraisers

, allowing you to invite guests and participants to donate to your organization virtually without having to attend in-person.

Employee events,

such as awards ceremonies, holiday parties, and company-wide town hall meetings

Product reveals,

where your business can display a new product or service in a controlled live stream environment, allowing for greater interactivity than with a pre-recorded video

Hybrid events,

events which combine elements of traditional events (a small audience, a live reveal) with elements of virtual events (live chat, prerecorded video presentations). These events can be harder to plan due to the amount of moving parts, but they can prove to be a very rewarding experience for your guests.
Once you've decided on the perfect type of event for what you want to accomplish, the planning stages will be that much easier!
Find a platform
This can be a little trickier if you're not the most technologically savvy, but finding the right platform to host your event can make all the difference when it comes to your guests being able to easily access and view your event. Especially if you're hoping for additional features such as chat or video replay, this could impact the platform you choose to host your event. Check around to make sure you can find a hosting platform that meets your needs and will be easy for your potential guests to use and enjoy – it might be as simple as Youtube, or it could be as complex as a more private, customized solution.
Put a team together
Try as you might, going it alone is going to be more frustrating than anything, and even if you were trying to keep some aspects of your event a secret, you'll need to have some help to get it all going. Find some teammates who you can delegate tasks to – someone who can schedule the various parts of your event, someone who can handle the technological side, someone who can round up all the event rentals you'll need, and so on. When it's all said and done, you'll be glad to have their help!
Find the right studio
Odds are, most people reading this don't have access to a broadcasting space that can handle the requirements of a virtual event, no matter what type of event you're planning to hold. Your living room might work for the occasional Microsoft Teams meeting, but for something like this you might want to go a little bigger!
Take a look around your area and try to find a virtual event studio that can accommodate your needs, both space-wise and equipment-wise, to make sure your message is seen by all your attendees with as little headache (or dropped connections!) as possible. This goes double for your internet connection – running an event like this requires a lot of stable upload bandwidth, and your facilities will need a top-shelf internet connection to prevent any interruptions or sudden drops in quality during your live stream. Make sure your studio can offer a backup internet connection (like the kind we offer here at Bldg22!) that can carry the weight of your stream in the event of an issue, ensuring the show goes on.
After this, all there is to do is…hold the event! Your guests will be happy to see what you're unveiling, your team will be happy to see each other again, and when it's all over, you'll be glad you did it.
(Of course, if you have any lingering questions or needs for your event, you could always contact Display Group to answer any questions or help you plan your event!)
The holidays are coming up soon, and for many of us, that means we need to start planning our holiday parties – both at home and at work!
After the online-only environments we were all subjected to back in 2020, a lot of workplaces are starting to return to some sense of normality and holding in-person holiday events again. Even if your team is still spread out and working remotely, a lot of people are excited for the chance to hobnob with their teams and get a little more into the holiday spirit after taking a year off. 
Of course, not every worker is comfortable with the idea – or, in cases of remote work, even able to attend these events in the first place, so not everyone is completely saying goodbye to virtual office parties & corporate events. 
With that in mind, we've pulled together a list of holiday party ideas for teams both near and far, for however you want to ring in the holiday season!
In-Person Company Holiday Party Ideas
Themed parties
By now, everyone at work is pretty used to showing up in their nicest tie and enjoying dinner with the rest of their team – but what if everyone had to show up in Hawaiian shirts, or suddenly the hall you rented was decked out like old Hollywood? 
Even if you're sticking with the traditional "cocktails and hors devours" setup, a good themed backdrop for your holiday event can really shake up the mood, particularly if the theme matches your industry, or a big achievement your company saw over the years. With the right event theme decor, you can make your next holiday party one they'll be talking about until the next one – or even the one after that.
Looking for ideas for a holiday party theme? Here are some good ones to spark some inspiration:
Casino Night

– despite what all that awkward episode of

The Office

might tell you, casino nights are still a great way to get your team together and bond over a common goal – having the most chips at the end of the night! (If you've need a little inspiration, we've already got some

corporate casino themed party ideas

.)
Community outreach
Volunteer work has been growing in popularity amongst companies of all sizes over the past 10-15 years, and workers from local businesses of all types have been seen volunteering their time at community events, various shelters and kitchens, and the like. If your business has been getting more involved with the community lately, why not tie it into your holiday event?
There's plenty of ways to do this that could tie in with the usual holiday shindigs – you could ask for donations of toys or non-perishable foods when your employees arrive, for example. Or, if you're really in the giving spirit of the holidays, you could take your team to volunteer firsthand for a few hours at a local soup kitchen or shelter, with everyone getting dinner and drinks at the venue of your choice afterwards. It could help build a sense of community engagement amongst your employees, and who knows – maybe they'll like it so much they'll go volunteer even without the promise of dinner and drinks.
Local food trucks
Of course, no holiday party is truly complete without food, right? Instead of limiting your choices to a single restaurant or catering service, why not expose your team to the local tastes of food trucks and other carts from around the city you call home. All you need are a few food trucks of various delicacies (particularly for anyone on your team with an alternative diet), some rental event furniture for everyone to sit and enjoy their meals, and bonus points if your event is somewhere warm enough to eat outside during the holiday season.
Virtual Holiday Event Ideas
Opening acts/entertainment
Even if your team can't be together in person, they can all get together to enjoy the same events. With the right virtual event broadcasting space, your team can gather around the device of their choice and enjoy a set from a local band, or a performance from a stand-up comedian before breaking out to chat amongst themselves from a distance. (It could also be a great way to sneak in a big rousing speech celebrating the work they've all done over the past year, if you're the sort for speeches!)
Breakout rooms
No one likes the huge virtual party where everyone awkwardly stares at their screens and three or four people command the conversation. After opening remarks and acknowledgements, spend some time sending attendees to breakout rooms before bringing everyone back together. Most virtual meeting platforms now have functionality to pair people off into breakout chat rooms where conversation can actually happen amongst smaller groups of people, instead of trying to be heard above the din of the main group chat. Use shared interests to group people in breakout rooms (travel enthusiasts, sports fans, movie buffs, etc.), create groups based on teams who don't work together often, or just create the rooms at random to help your team get to know each other better.
At home wine & cheese tasting
These days, it's easier than ever for your team to all enjoy the same things, even if you can only see each other over Zoom. Many local stores and restaurants have begun to offer virtual cheese tastings, wine classes, cocktail parties, and the like by arranging to deliver the needed supplies to each of your team members' homes, or just providing a gift card and a shopping list for them to acquire it themselves. 
From there, you can schedule a time for a live presenter to take everyone through the various food and drinks provided to them, explaining each one and helping them enjoy it more thoroughly than before. Who knows – it just might turn some of your teammates into cheese experts!
Quiz night
Finally, few things can bring teams together – even in competition – than a good quiz night. Divide your guests into smaller teams, nominate a host for the evening, and pick a few themed questions for different rounds. Bonus points if you whip up a slideshow to share on Teams while you go through the questions for visual aids – take a little inspiration from the last quiz game you played at the bar and have fun with it!
Plan Your Holiday Party
No matter what you decide to do for a holiday party, either in person or virtually, contact Display Group for any event planning or rental needs you may have!
The sudden pivot to virtual events that occurred for many organizations and industries over the past year or two seemed pretty sudden, but has actually opened up a number of opportunities for businesses, organizations, and groups of all sizes.
Virtual events allow your organization to stay in touch with their customers through product reveals, virtual meet-and-greets, and more. However, even as virtual events become more popular and commonplace, a number of businesses and groups still don't know what sort of virtual events it would be viable for them to hold, or even if virtual events apply to their activities and products in the first place.
Us? Well, we think there's a virtual event for everyone out there. Not every virtual event needs to be some lengthy product reveal or unboxing video – all you need is a little imagination to find the type of virtual event that can help you better connect with your audience, no matter who it is or where they might be located.
Virtual events can take many different forms and styles, from the grand to the intimate. Here's five of the most commonly held virtual events, and what they could potentially do for you!
Common Types of Virtual Events
Each of these is considered a 'virtual event', and all of them can be easily modified to meet the needs of your event or business.
Webinars
The most common type of virtual event, and one that has existed long before the current virtual event craze, is the webinar. As you can tell by the name (which originated back when everything on the internet had to be some kind of pun or portmanteau), a webinar is when a speaker presents their content or presentation virtually, allowing attendees from around the world to join in. In many cases, these webinars are live and fully virtual, allowing for the presenter to take questions from the audience and respond to things real time, although a number of webinars intended for a more international audience are frequently pre-recorded to allow for broadcasting in different timezones (or even languages, in some cases). 
Webinars are perfect for any group or industry that has information to present, and are frequently used for professional development in certain industries, or for presenting the results of a study done on an area of business. 
Virtual Trade Shows
Particularly in these days of global audiences for businesses, a virtual trade show can be a great way to maximize leads and expose your products to the widest possible audience, all from the comfort of their computer or smart device. 
Virtual trade shows are a perfect opportunity to unveil new products, meet potential customers interested in your goods and services, or connect with similar companies in the same space. Perhaps best of all, holding your trade show virtually saves you the hassle and expense of trying to get space on a crowded convention floor, travel accommodations, and the like.
Livestream Concerts
Few industries were hit harder during the pandemic than the live event business. Concerts, plays, really any kind of performance art was shut down seemingly indefinitely, and even as things slowly begin to open back up as is deemed safe, many performers are still turning to livestreamed concerts and events to help get back out in front of their fans and generate a little extra income while the touring industry slowly returns.
Livestreamed concerts and performances work similarly to a 'normal' concert, with one crucial difference – the audience is all online! By performing in a virtual event space, you can broadcast your performance on the platform of your choice to a potentially global audience, and potentially earn a little extra money by selling online 'tickets' to the event. 
Hybrid Events
Of course, just because you're holding a virtual event doesn't mean the entire thing has to be digital. "Hybrid events" have grown in popularity over the last year, thanks to their ability to combine elements of both virtual and traditional events in one convenient form. 
Hybrid events combine both a live presentation (with a live audience) with online broadcasting. These events often involve multiple locations or studios, allowing for teams to switch effortlessly between different presentation groups without all needing to be present in the same building. The online component still allows for interactivity with a virtual audience across the world, but the blended nature of the event can allow it to feel bigger and more important, especially when your teams are still spread out.
So How Can I Host A Virtual Event? 
Hosting a virtual event is easier than you might expect! All you need is the assistance of an experienced team, and the use of a virtual event studio. Bldg22, our full-featured virtual event space, can serve as the perfect backdrop for your next virtual event of any size, no matter what you need to broadcast – or who you're broadcasting to. 
Our audiovisual production team can help handle all the technical aspects of your event – all you need to do is come up with the right event idea.
Whether you have broken in that perfect seat on your couch, or you are ready to get out of the house, running a hybrid event could be the solution for your next meeting or event. 
What is a hybrid event?
A hybrid event is the blend of both live and virtual events in one, combining in-person elements (such as product reveals or presentations like you'd see at a trade show) with the convenient virtual user interaction of a live stream or Zoom meeting. 
Nowadays, we never know what the world will bring. When planning events, there is already enough stress involved. Hybrid events allow for great flexibility, especially when dealing with the unexpected. Whether hosting a press conference or launching a new product, a hybrid event or hybrid meeting might be your solution. Follow this guide for more information on how to host a successful hybrid event. 
What kind of events can become hybrid events?
Product Launches

Fundraisers 

Client/Employee Meetings 

Virtual Trade Shows 

Webinars

Galas 

Panels 

Press Releases 
Running & Organizing Your Hybrid Event
Create a Custom Event Registration Plan
Keep your event organized and stress-free from the start, create a custom registration plan. Your plan should include an RSVP system, where attendees can choose whether they will attend virtually or live.  Will the majority of your audience be attending from the comfort of their home? Or will your audience be in-person?   
Market Your Event 
Having an audience is the fundamental aspect of hosting a successful event, be it a hybrid event or a more traditional one. Marketing plays a significant role in your turnout. The perk of hosting a hybrid event creates the availability for people to attend from anywhere. Tackle marketing by creating a website for your event, which can include RVSP and an itinerary for your event. In the event industry, the itinerary is considered the "run of show" in which every segment of the event is spelled out to the attendees. The run of show can include anything from start and end time of the show to speakers at the events. Additionally, create a presence on social media and make your event known among your following. This can be anything from a post on an Instagram story or an invitation through Facebook.
Think Outside of the Box
I think it is safe to say that most people are "zoomed-out" and tired of sitting on boring virtual calls. That's why your next hybrid event should have virtual engaging content. Think outside of the box, consider using live polls, Q&As, games, and possibly breakout rooms to change the pace of the traditional virtual atmosphere. Overall, your events should be relevant and engaging to your audience, whether in person or virtual. 
You might think incorporating engaging content through a screen would be challenging, but it isn't.  Having access to top-of-the-line AV and broadcast systems can make your next event engaging and worth your time. Consider a video wall, which is a multi-monitor setup that forms one large screen. The large screen has the capabilities to allow virtual attendees to interact with in-person attendees. Furthermore, the video wall can be used to display important information or fetch custom graphics. 
Located inside the headquarters of Display Group & AVL Creative in Detroit is Bldg 22. Bldg 22 is a full-service broadcasting studio where your next virtual/hybrid event can take place. Not only is the studio equipped with top-of-the-line audiovisual event production capabilities and broadcasting systems but it features multiple stages. The stages have the ability to transform into kitchens, offices, or really anything with the green room and onsite scenic rentals and custom fabrications. 
Try Simulive
In between interactive activities, try a simulive format. Simulive is having a prerecorded session for both virtual attendees and live attendees. Remember, a hybrid event is one event and two experiences. The last thing you want to happen is for your virtual attendee to feel left out from the live-action and vice versa. Simulive is ideal for hybrid events, and it's even better when you have a virtual MC (master of ceremonies) guiding the virtual audience through the event. Having an MC keeps the event organized and clear and keeps the audience engaged. Truthfully, what would be an awards ceremony be without an MC and a meeting without a host, even if it's a hybrid meeting? 
Have a Back-Up Plan
Unfortunately, life is not perfect, and everything does not always go as planned. An important tip when planning a hybrid event is to have a backup plan if something goes awry. Some may inevitably struggle to log in to the platform, get logged out, or possibly lose internet connection. Create instructions and link them in a marketing email. The instructions should include common troubleshooting problems. Another tip is to have a designated person be in charge of technical difficulties and provide their contact for assistance.  
In this day and age, we all live busy lives. Giving people more than one way to attend an event can increase attendance and make people feel more comfortable overall. Consider a hybrid, the up-and-coming format, for your next event.  
To plan your next hybrid event, contact Display Group and the family of companies at 313-965-3344.
Decorating with pipe & drape is the easiest way to transform a space quickly and cost-effectively.  Whether you're using pipe & drape to cover one wall or the entire space, it's a proven solution for professional event planners.  When designing an event, think of the décor in terms of layers.  The higher the budget, the more layers you can add.  The first layer will be pipe and drape in some form, and then you can build out from there by adding layers of décor.  Below you can find some examples that range from simple techniques to more elaborate and time-consuming methods.
Specialty Drape for Events
If you want to make a big impact, but can only afford to do the drape, you may want to think about using a specialty drape.  Gold pipe and drape gives you a dramatic background for an awards show or wedding, while still keeping it a simple and quick installation.  There are multiple styles of rental drapes available.  Even if you need to ship it in, the pipe and drape hardware is widely available in most rental markets.
Pipe & Drape for Holiday Events
A favorite for holiday events is red pipe and drape.  We like to use red velour drape as a basic background for simple holiday displays.  If you're setting up a Santa's display, simply add a throne, some winter and toy accents, and you have a nice setting for photos.  You can also stripe in one or multiple colors, depending on the look you want.
Pipe & Drape with Lights
Another technique is to use pipe and drape with rental backlighting for events.  We like to use a white or silver translucent drape and backlight it with either one or a series of LED lights.  With this technique, you can light your drape any color, and change it as you see fit.  You can also use solid colored pipe and drape with lights in front.  With a powerful enough light, you can also add color to solid drape, or project patterns.  
Pipe & Drape for Weddings
For a wedding or elegant affair, we like to use pipe and drape with greenery backdrops.  Because of pipe and drapes nature, it's easy to attach greenery to the uprights or crossbeams.  There are also simple attachments that can be added to support pipe and drape with flowers or hanging baskets.  Many florists will use pipe and drape with white flowers and greenery, creating a lush display for a wedding ceremony.  
Pipe & Drape with Backdrops
Another simple way to decorate for a themed event or a stage background is to use a digitally dyed event backdrop.  Simply slide the backdrop over the pipe and drape frame and you have a seamless background that looks great, and sets up in 10 minutes.  You can add additional décor as the budget permits.  We once used over 500 running feet of an outdoor forest background, and added fresh greens and plants, brown furniture and natural décor elements to bring the display to life. 
For the true professional, there are special caps that can be added to the top of a pipe upright, giving you two layers of drape.  A very dramatic effect is to use one color of drape on the back level, and another color in front pulled back to reveal the rear drape.  Use rope and tassels to tie the drape back, or simply use a zip tie and pull the drape over to conceal it.  If you still want to take it a step further, add an additional pin and upright on the base, and add a third level of drape of a vallance.  If you decide to use this style of drape, you may want to add a base weight or sand bag for extra support.
Pipe and drape can be the perfect way to accentuate your existing event decor, or create the elegant look you're looking for. For even more decorations and backdrops for your wedding, trade show, or other event, check out the rest of our event supply rentals.
Pipe and Drape is a combination of four key components used to create temporary walls. The components are bases, uprights, crossbeams, all of which support fabric drape or printed backdrop panels. The setup is simple. The uprights are slipped over the base nipple, and the crossbeams connect the uprights. Then the drape, which has a sewn pole pocket, is pulled over the crossbeam to create your temporary wall.  Generally, this system is used indoors, or other environments shielded from the wind.  Pipe and drape walls are very functional and often used for crowd control, trade show booths, dividers, and temporary covers for indoor areas that may be under construction.  Pipe and drape is also used to create a wide variety of styled backgrounds (or alongside event backdrops) for weddings, and other live events. 
Now let's take a deeper dive into these essential parts:  
Pipe & Drape Parts and Setup
Bases
Steel bases come in a variety of sizes and weights, depending on the height and weight of the drape being used.  For instance, if you are using a 3' tall section as a divider or entry area, a smaller base is sufficient.  The taller and heavier the drape material used, the larger and heavier the bases will need to be. Drape may be floor supported up to 25' Tall.  In this instance, we recommend large heavy weight bases, as well as additional sand bags or base weights.  Anything taller should be supported from a flown truss or rail.
Uprights
Like bases, uprights come in a wide variety of heights and levels of adjustability.  Typically, most companies will stock fixed uprights in 3' or 8' heights for standard room divider walls, crowd control, trade shows or office partitions.  We also stock adjustable uprights so you can have the exact size needed for the room.  Popular adjustable upright sizes are 6' – 10', 7' – 12', 9' – 16' and 14' – 26'.  Adjustable uprights are 2" O.D. and quickly adjust to any size within the range.  The upright top has four slots that can receive the crossbeams every 90 degrees.
Crossbeams (Telescoping drape supports)
Running between the uprights supporting the drape are crossbeams.  Crossbeams come in a wide array of adjustable sizes ranging from 2' – 3' to 9' -16'.  The most popular sizes are adjustable from 6' – 10' and 7' – 12'.  Typically, we run our drape crossbeams at 10' wide.  If you have a larger area to span, you can use the wider options.  Keep in mind, the wider the crossbeam, less drape it can support.  If you need to hang drape wider than 16', you should consider a truss support.
Drape
We've covered all of the pipe elements of pipe and drape, now to the most important part, the drape.  Drape comes in a wide variety of colors, fabric styles, and weights.  At Display Group we routinely create custom drape for clients, and that's how we've built our massive inventory.  Some of the more popular drape styles are banjo, for trade shows and expositions; velour, for corporate theater and meetings, and specialty for a wide array of weddings, events and temporary experiential environments.
Printed Backgrounds
Digitally printed backgrounds are easily hung on pipe and drape frames, if you're looking for a more thematic  or custom look .  We stock 100's of existing styles and designs, and our custom event fabrication team is happy to create a custom background just for your particular needs.
In conclusion, if you want to create temporary walls with a limitless number of possibilities and looks, pipe and drape is a great solution.